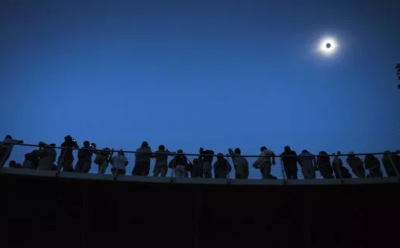 23 Aug

Upstate Headlines: Eclipse Day, Mauldin Trail Connection, New CBCaine Office & More!
A collection of the top Upstate headlines for the week of August 21, 2017
Eclipse brings festive darkness as Upstate celebrates once-in-a-lifetime event
It was a moment of sublime intimacy, where the new moon's total eclipse of the sun brought the masses into communion with the grandeur of the universe. The hashtags, the clever events, the run on eclipse glasses, the preparation and uncertainty – all faded into triviality as for a few short minutes the moon shimmered with the white, incandescent aura of the sun's corona.
Trail connection would be feature of massive Mauldin development
Greenville developer Phil Hughes said he plans an urban village along Interstate 385 in the City of Mauldin with at least 1 million square feet of new apartments, offices, shopping, dining, lodging, and entertainment. The project would entail a new street grid and multiple new buildings on about 40 acres along I-385 just south of its intersection with Butler Road. It would be connected to the Swamp Rabbit Trail via a pedestrian bridge over I-385.
Coldwell Banker Caine announces new office in downtown Spartanburg
Greenville-based real estate firm Coldwell Banker Caine said it will establish its new Spartanburg headquarters in the Gilbert & Son Co. building in a 7,000-square-foot space formerly occupied by The Iron Yard at 151 S. Daniel Morgan Avenue. The company said it has begun renovating the space adjacent to a vacant restaurant and several apartments, which is near the $20 million AC Hotel under construction at the corner of West Main Street and Daniel Morgan Avenue. It anticipates it will take up residence in the space by the end of the year.
Inland Port's growth a sign of impact on regional business
When Inland Port Greer was opened in 2013 the goal for the amount of activity the port would produce was lofty, but S.C. Ports Authority President and CEO Jim Newsome said he was optimistic. The goal of S.C. Ports Authority officials was to have 100,000 rail moves of cargo per year by 2018. In 2016, the third year of the port's Upstate operation, SCPA recorded 103,635 rail moves — or moving one container to and from rail to the port — in one year.
Bridge to connect Drayton Mills trail, Beaumont Mill community
Spartanburg County Council on Monday agreed to donate $150,000 to Partners for Active Living to build a pedestrian bridge over Lawson's Fork Creek that will connect Drayton Mills Trail and the Beaumont Mill community. John Montgomery, CEO of Montgomery Development, which has developed Drayton Mills Loft Apartments and Drayton Mills Marketplace, said the steel 100-foot long bridge will be built atop a sewer line that Spartanburg Water will be replacing soon.