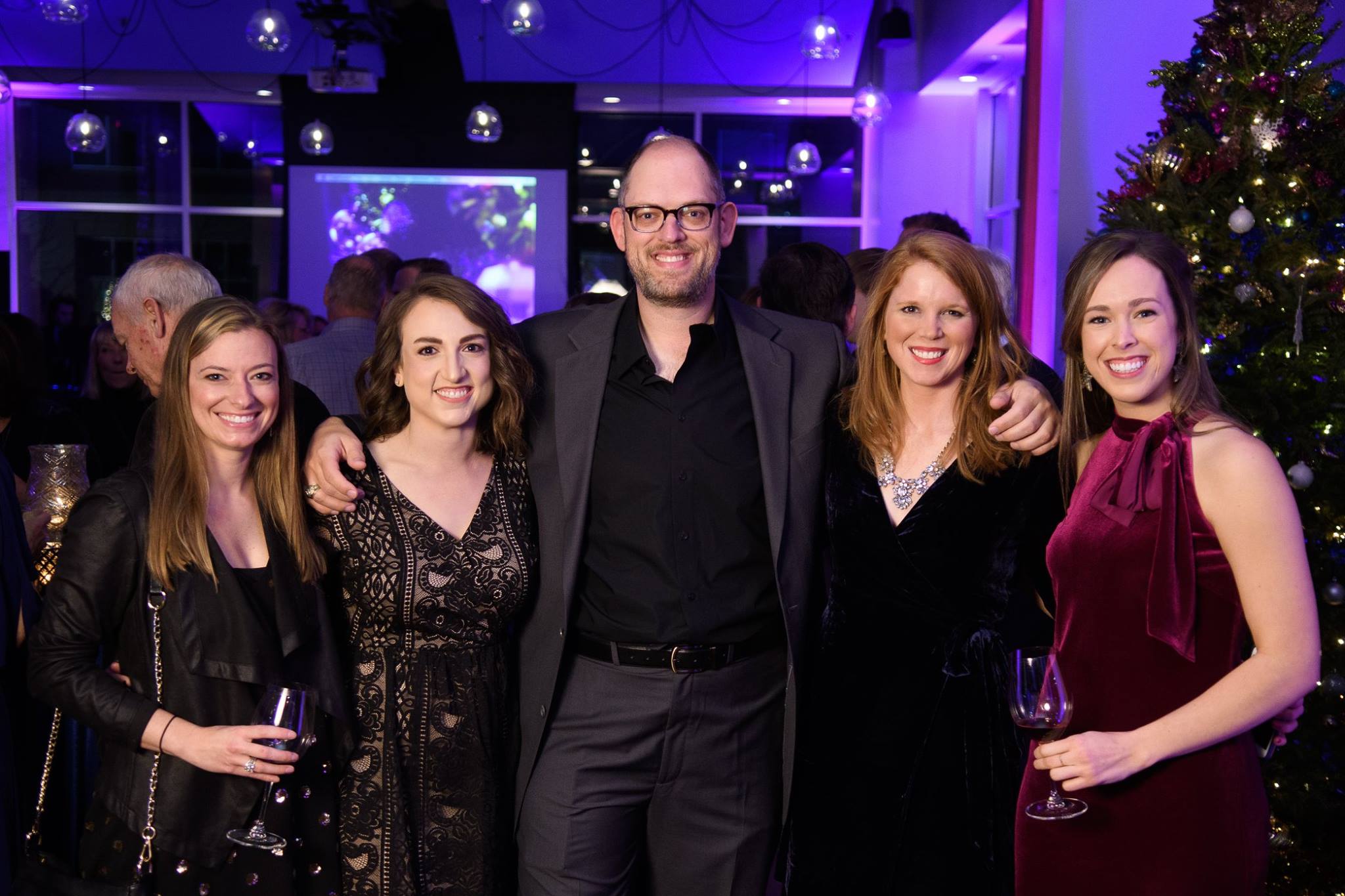 15 Jan

These are a Few of Our Favorite Things: 25 Hobbies, Habits & Gadgets to Try

New year, new you? If you're seeking inspiration for new hobbies, habits, subscriptions, and gadgets to try in 2019, check out this list of the CBCaine marketing team's favorite things from the past year.

Kate Dabbs, Director of Marketing & Operations

1. Burn Boot Camp – After moving to a different side of town, I was no longer close to my old gym. I have loved Burn Boot Camp as it is conveniently near my house and has stretched me to try more kinds of exercises that are new to me. Plus, it is different every day. Thrive Caine for sure!

2. SmartWatch – My husband used to always tell me he could never get me to answer the phone because I don't carry it with me at home. Enter a smartwatch – beyond all of its other cool features, being able to quickly get to a phone call or silence one (let's be honest) is extremely helpful. I was late to the party on this one but I highly recommend to those still on the fence.

3. My favorite crockpot recipe –  I always am trying new recipes, but this new crockpot recipe has been on repeat for its ease and adaptability. Chicken breasts + chunky salsa + balsamic vinegar (proportions depend on your preference but I do three chicken breasts, two plastic containers of salsa bought fresh in the deli area, and one cup of balsamic vinegar). That's it, on high, all day. You can use it as a taco ingredient, or simply put it over rice/spaghetti squash if you are going low carb.

4. Rocksbox – I have written about it before on this channel, but this monthly subscription box of jewelry has been purely FUN in 2018. I really enjoyed getting new pieces to try for a bit before sending them back in for another set. I love mail, and I love unboxing new stylish things, making this subscription box a win-win.

5. Reading! – I always love to read, but this year I have had a renewed passion for it and devoured some books. In preparation for a trip, I picked several books set in our destination to pick up on some tidbits of culture/history. This was a fun way to learn and I would recommend it if you are venturing to a new city or country.

Virginia Wilson, Marketing Content Specialist

6. French Pressed Coffee – Earlier this year I switched from my regular drip coffee to a French press. The reasoning was arbitrary, having just moved out of an apartment into a new house with a roommate, I realized there wasn't enough counter space for two coffee makers, and rather than hijack her coffee pot, I invested in a French press. My coffee tastes better, and I enjoy the process of making it as I wake up in the morning…no turning back!

7. EveryDollar App – As a budgeting novice, last year I had a goal of learning more about managing my money wisely. I was advised to look into the EveryDollar app, and it has been a great investment. It helps me create monthly budgets and track where my money is going. I have a lot to learn, but this has been a great tool to get started.

8. Podcasts and Audiobooks – For most of my life I've considered myself a visual learner, but it turns out auditory is much more my style. This year I started an Audible subscription, and I've flown through a few great audiobooks. I've also listened to many smart and interesting podcast conversations, including daily listening to Up First, which gives me a synopsis of the news as I get ready in the mornings.

9. Good socks – As someone with seemingly chronic cold feet, I realized that my old, cheap socks weren't cutting it anymore. I recently invested in a pair of Smartwools, and though I had never before spent more than a few bucks on socks, I can say they were well worth the investment. I've started accumulating a collection of higher quality socks, and it's made a huge difference for the comfort of my feet in running shoes, rain boots, cold weather shoes, etc.! It's the little things, y'all.

10. Toting a Water Bottle Around – I'm a big water drinker – always have been – but this year I've made an effort to always have a water bottle with me. It's helped me stay more hydrated and saved the environment a lot of plastic cups. Win-win!

Marisa Stephens, Digital Strategist

11. Tovolo Sink Buddy – I picked this little square scraper tool up on a whim at Sur La Table, and it turned out to be one of the most used items in my house! I have a large, white farmhouse sink in my kitchen. Crumbs often get stuck in the corners, and no matter how hard I try, the sprayer just doesn't get them over to the drain. The two rubber sides of this tool make it easy to keep my sink clean. It also has two harder, plastic sides that can be used to scrape something that's stuck to a cookie sheet or dish off. Plus, it has a magnetic suction cup so you can keep it on the inside of your sink for easy access. Sometimes it's the little things, and this little thing is genius!

12. Amazon Alexa's Question of the Day skill – Every night while my husband and I are cooking dinner we ask Alexa, "What's the question of the day?" With a new trivia question each day covering a range of topics (science, arts, entertainment, literature, etc.), we often learn something new, and it is a quick, fun activity to do together. If you like QOTD and want something a bit more in depth, you should also try Alexa's "Feel the Pressure" game.

13. Google My Maps – Last March, I went on a trip with my family to San Francisco. My brother, who lives in Seattle, introduced me to a great way to plan our trip collaboratively online – by creating our own shared Google Map of the city. We each added pins of attractions, restaurants, and sights we were most interested in (color-coordinated and with custom icons if you are really into organization like me). Before the trip, it helped us narrow down our sightseeing activities and plan what things were in close proximity to each other and could be done on the same day. During the trip, we could also pull it up on our phones and decide where to eat or get directions to the next stop. I'll definitely be creating more maps for my future travels!

14. My Piano – I took piano lessons for 10 years while I was growing up, but for the last 10 years since I have lived on my own, I haven't had many opportunities to play, as my piano resided at my parents' house. Since my husband and I bought our own home this year, we finally had room to move it to our place (we now have an entire music room with it + our guitars + my ukulele). Though I enjoyed taking lessons, I always put pressure on myself to impress my teacher and perform well at recitals and auditions. As an adult, it has been really nice to get back into it and play simply for my own enjoyment. It helps get me off my phone and away from the TV to relax. I'm hoping to make more time to play in 2019.

15. Flipboard App – No more are the days of getting a newspaper in the mail and taking out the sections you enjoy reading. In today's world, the news is digital, and the Flipboard app is a great way to consume it. Tell it your passions (mine include social media, travel, food & dining, and dogs) and even add hashtags for subtopics of those passions (my food & dining hashtags include #beer, #food trucks, #celebrity chefs, and #cheese). Then start flipping (AKA swiping up) through headlines curated for you. Click to read or save an article for later. Create your own "magazines" and more.

Lucy Pressly, Marketing Services Specialist

16. Pilates Barre class at the Caine Halter YMCA – This class is the best class I've ever taken. It's an hour long and focuses on arms, legs, and core doing a variety of exercises. My core has always been my weakness, and this class has given me the best results. Kristina rocks and I want her to be my personal trainer.

17. Getting a crockpot – Although I cooked my first recipe in 2019, it was given to me in 2018 so I'm counting it! While I don't mind cooking, it's always been a challenge and time sucker for me. I know having this is going to make my life easier and more delicious!

18. Amazon Prime – I am embarrassed to say that I joined prime in 2018. I always was too cheap to sign up for it but I'm so glad I did. Now, I order everything on the app and have access to Prime Video and Music. Free 2-day shipping is life-changing, and I'm loving Marvelous Mrs. Maisel.

19. My spring West coast trip – I visited 4 cities in one week: Victoria, Vancouver, Seattle, and Portland! It was amazing. I am a huge pinot noir fan and being able to tour the Willamette Valley was a highlight. Traveling is always so inspiring and eye-opening. I will continue to make it a goal in 2019.

20. Becoming a reading buddy – I've always wanted to give my time in some way but struggled with fitting it in my schedule. I read twice a month during my lunch break to a student at Hollis Academy. It's a pure joy and brings childhood memories of when I was that age.

James Prow, Graphic Designer & Project Manager

21. Spectrum App on Roku – When paired with a Spectrum streaming-only TV package, this can save you significant money each month. Not only does the price of the TV package decrease because you have fewer channels (that you select from an a la carte menu), you're also not paying the rental fee for the cable boxes themselves.

22. Pre-made Margaritas at Costco – They're seriously so good and premixed with tequila and other goodness.

23. Target Men's Clothes – I've found two great, unstructured blazers at Target over the past four months. Their Goodfellow brand has stylish and affordable options for work.

24. 6PM.com – An offshoot of Zappos, 6PM.com carries high-end shoes at a steep discount. Plus, you get the great customer support of Zappos.

25. Adobe Max conference – I feel so fortunate to have been able to attend Adobe Max this year. Between the amazing keynotes, labs, sessions, and people I met, I left Max maxed out. To step out of the day-to-day design grind and be surrounded by 14,000 other creatives was quite the experience.

Feeling inspired yet? What are your favorite discoveries of the past year?