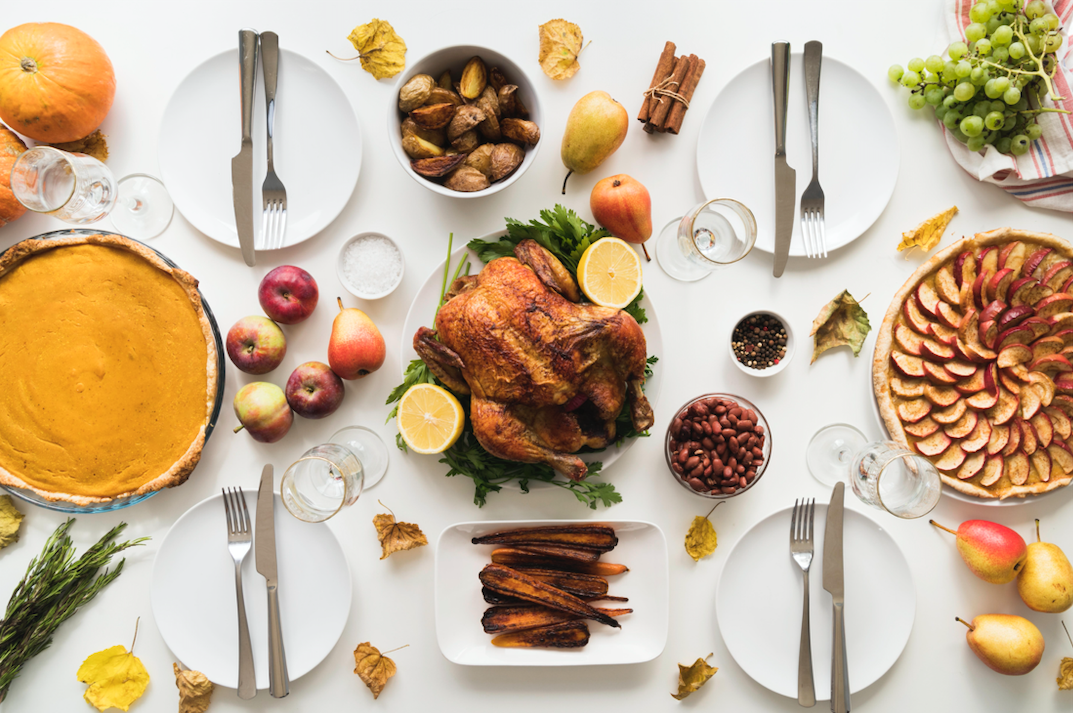 19 Nov

Favorite Thanksgiving Recipes from the Caine Family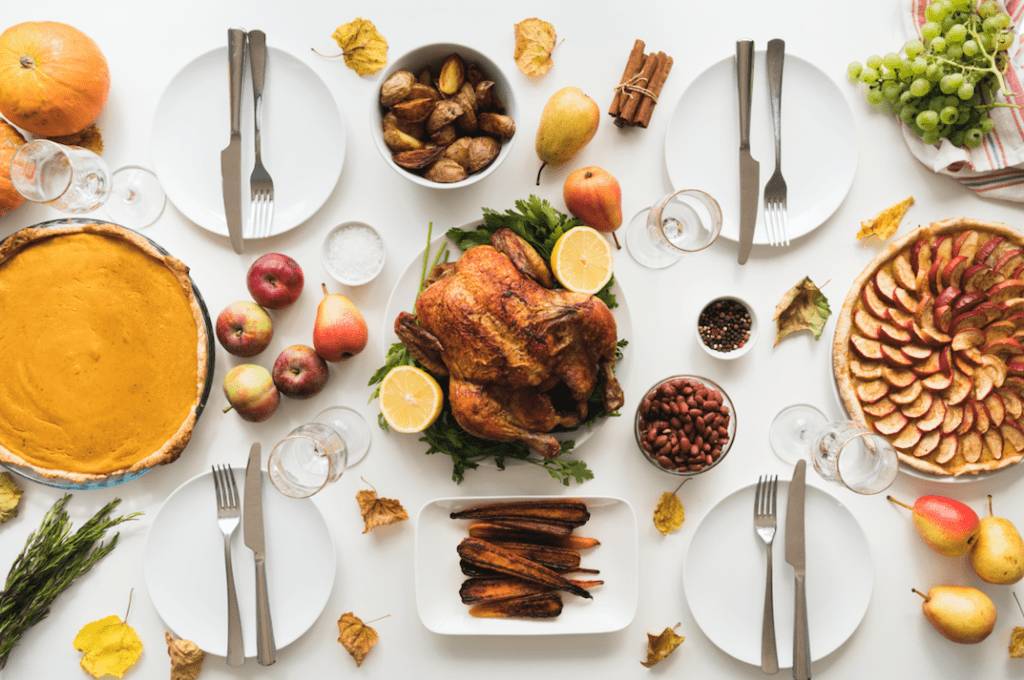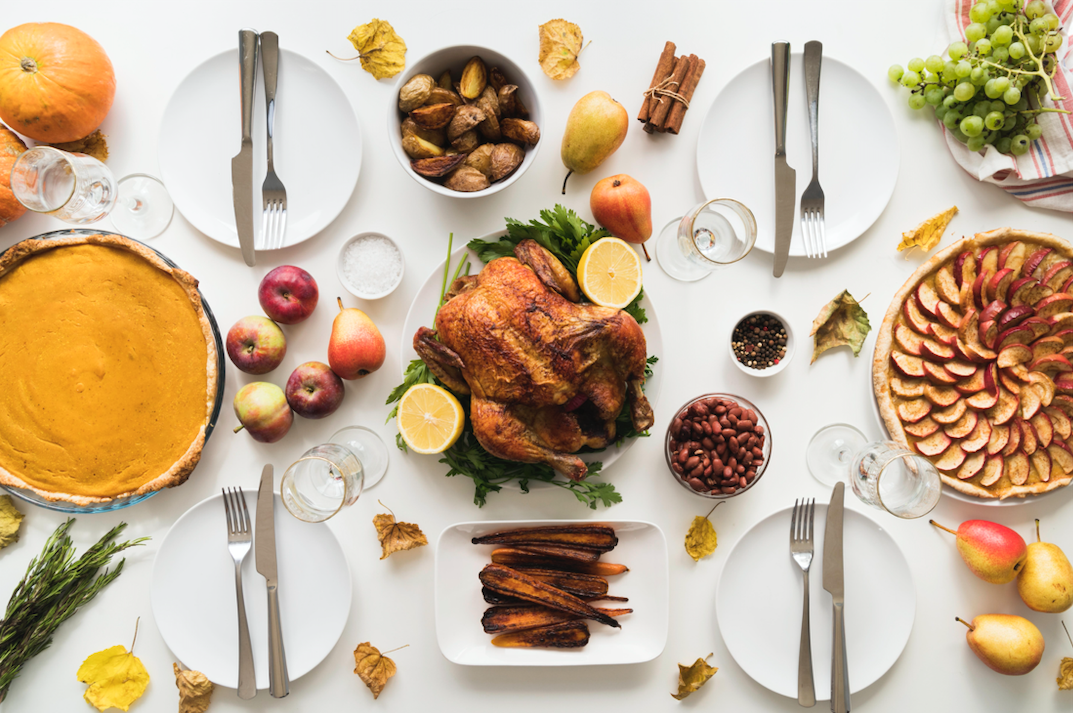 Though this year's Thanksgiving celebrations may look a bit different, especially now, it is important to reflect and give thanks for what we have. Whether you're looking to replicate your family's comforting traditions or use the opportunity to try something new, take a look below at a few of our Caine family members' signature dishes for inspiration.
Appetizers

Almond Orange Garden Salad – Submitted by Marisa Stephens
Salad ingredients:
1 cup sliced almonds
1/4 cup sugar
1/2 head iceberg lettuce
1/2 head romaine lettuce
6 green onions, chopped
2 10-ounce cans of Mandarin oranges, drained

Sunlight salad dressing ingredients:
1 cup vegetable oil
1/2 cup white wine vinegar
1/4 cup sugar
1 teaspoon salt
1 teaspoon black pepper
1 teaspoon dried parsley
Combine dressing ingredients in a jar and shake until well mixed. Add sugar to a frying pan with almonds and cook over medium heat, stirring and watching closely. When almonds are browned, pour them onto foil and let cool. Tear clean lettuce into bite-sized pieces and place in a salad bowl. Add onions and oranges. Pour Sunlight Salad Dressing over salad to taste and toss lightly. Top with almonds and serve.
Cranberry Brie Bites – Submitted by Virginia Wilson
Ingredients:
1 (8-oz.) tube crescent dough
Cooking spray, for pan
Flour, for surface
1 (8-oz.) wheel of brie
1/2 cup whole berry cranberry sauce
1/4 cup chopped pecans
6 sprigs of rosemary, cut into 1″ pieces.
Preheat oven to 375° and grease a mini muffin tin with cooking spray. On a lightly floured surface, roll out crescent dough, and pinch together seams. Cut into 24 squares. Place squares into muffin tin slots. Cut brie into small pieces and place inside the crescent dough. Top with a spoonful of cranberry sauce, some chopped pecans, and one little sprig of rosemary. Bake until the crescent pastry is golden, about 15 minutes.
Feta Artichoke Dip – Submitted by Marshall Jordan
Ingredients:
2 cans artichoke hearts (in water)
3/4 – 1 cup crumbled feta
A few sprigs of fresh oregano
2 cloves garlic pressed
1 small yellow onion, chopped fine
1 cup mayo
Package of sliced almonds
Serve with toasted cut baguettes or blue corn tortilla chips. Drain and rough chop artichokes in baking dish. Add finely chopped onion and garlic. Add oregano (take leaves of sprigs and chop). Add feta. Add mayo and fold in (about a cup enough to mix). Smooth out in baking dish and add sliced almonds on top. Bake 350° for 30 – 40 minutes until bubbly. Enjoy with a glass of your favorite wine.
Sausage Cheese Balls – Submitted by Brenda Busby
Makes approximately 60-80
Ingredients:
2 cups Bisquick
1/2 cup water
1 lb Neese's whole hog hot sausage
1 cup sharp cheddar cheese, grated
Preheat oven to 400. Mix well and roll into small, bite-size balls. Cook for 10-15 minutes. Drain on wire rack. May be individually frozen and kept in the freezer until needed; Just pop back into 400-degree oven for a few minutes to reheat.
Deviled Eggs – Submitted by Anne Holden
Ingredients:
1 dozen eggs
1/2 cup mayo
1 Tbsp dijon mustard
1 1/2 Tbsp horseradish
1 Tsp hot sauce (optional)
1/2 Tsp salt
Paprika for dusting
In a large saucepan, cover the eggs with an inch of water. Bring to a boil, then turn off the water and cover for 15-20 minutes. Drain the eggs and cover with very cold water. Carefully peel the eggs. Slice lengthwise and separate the yoke, putting them in a bowl and setting the whites aside. Mash the yokes and mix with mayo, mustard, horseradish, hot sauce (optional), and salt. Spoon or pipe yolk mixture into the whites. Dush with paprika and chill for 30 minutes before serving. 
Note: A bit more flavor/taste than the traditional deviled eggs, but not too hot. Add hot sauce for that!
Breads & Rolls
Cheddar Biscuits – Submitted by Angela Halstead
Topping ingredients:
1/3 cup butter, melted
1/4 Tsp salt
1/4 Tsp Old Bay seasoning (from 6-0z container)
1/4 Tsp garlic powder
1 Tbsp finely chopped fresh parsley (preferred) or 1/4 Tsp parsley flakes
Biscuit ingredients:
2 cups original Bisquick mix
3/4 cup milk
1/4 cup butter, melted
1/2 cup shredded cheddar cheese
Heat oven to 425. In a small bowl, stir together topping ingredients and set aside. In a medium bowl, stir together biscuit ingredients until soft dough forms. Drop dough by the spoonful onto an ungreased cookie sheet. Bake 16 to 18 minutes or until biscuits are golden brown. Immediately brush hot biscuits with topping. Serve warm.
Beer Bread – Submitted by Lorraine Wilowski Gibson
Yield: 1 loaf
Ingredients:
3 cups self-rising flour
3 Tbsp sugar
1 egg
12 oz beer
Mix all ingredients in a bowl. Let rise 5 minutes. Bake in greased loaf pan at 375 degrees for 35-40 minutes.
Note: It must be eaten ASAP out of the over or else it gets stale. It is also great with cheese.
Side Dishes
Rosemary Creamed Corn – Submitted by Amanda Hamet
Ingredients:
2 pounds frozen corn kernels (2-16 oz packages), separate out 1 cup
4 tablespoons butter, cubed
Non-stick Cooking Spray
1/2 cup heavy cream
4 ounces (1/2 package) cream cheese, cubed
1 cup ricotta cheese
1 tablespoon flour
1/2 tablespoon sugar
1 teaspoon sea salt
1/2 teaspoon garlic powder
1/4 teaspoon onion powder
1/4 teaspoon black pepper
1/4 teaspoon paprika
1/4 teaspoon rosemary
1/4 teaspoon thyme leaves
Optional: Dash of cayenne pepper
Optional: 10z chopped sundried tomatoes (not ones in oil)
4-6 strips of bacon, cooked and crumbled
Green onions, chopped
Place 1 cup of the corn, cream, cream cheese, ricotta, flour, sugar, and all of the seasonings in blender container; cover. Blend on high speed until smooth. Spray inside of slow cooker with non-stick cooking spray. Mix remaining corn, butter, and blended corn mixture and sundried tomatoes (optional) in slow cooker until blended. Cover. Cook 4 to 6 hours on LOW or 2 to 4 hours on HIGH until desired consistency, stirring occasionally. Season with additional salt and pepper to taste, if desired. Top with bacon and/or green onions. Stir well before serving.
Sweet Potato Casserole – Submitted by Misty Hardaway
Casserole ingredients:
3 cups sweet potatoes, cooked and run through a colander
3/4 to 1 cup sugar, depending on sweetness of potatoes
2 cups marshmallows
3/4 stick margarine
1 egg, beaten
1 cup evaporated milk
Topping ingredients:
1/2 stick butter
1/3 cup brown sugar
1 cup crushed Rice Krispies
3/4 cup chopped pecans
Melt marshmallows in margarine over low heat, stirring often. Mix sugar, egg, and milk and stir until sugar dissolves. Pour all into potatoes and mix thoroughly. Pour into a lightly greased baking dish. Bake at 325° for 35 minutes. To make the topping, melt butter and add Rice Krispies, sugar, and pecans. Cool and crumble on top of the casserole. Cook casserole for another 10-15 minutes.
Roasted Fingerling Potatoes with Avocado Aioli – Submitted by Jenny Wakefield
Potato ingredients:
1 1/2 lb fingerling potatoes (I like the multi-colored ones)
1 tsp olive oil
1 tsp kosher salt
4 oz pancetta, chopped
2 large shallots, thinly sliced
1 Tbsp finely chopped chives
1 Tbsp finely chopped parsley
Avocado aioli ingredients:
2 avocados
1/2 cup mayonnaise
2 Tbsp fresh lemon juice
2 cloves garlic, minced
1 Tbsp finely chopped fresh chives
1 Tbsp finely chopped fresh parsley
1/2 anchovy paste
1/4 tsp pepper
Halve any large potatoes lengthwise. Put in a large saucepan, add water to cover by 1 inch, bring to a boil and cook for 4-5 minutes (or until slightly undercooked). Transfer to a colander and drain. Pour onto a foil-lined baking sheet and set aside. To make the aioli, combine all the ingredients in a blender and process until well blended. Transfer to a bowl, cover and refrigerate for up to 2 days. Preheat the oven to 375°. Drizzle the potatoes with oil and sprinkle with salt. Toss to make sure all are coated. Roast for 15-18 minutes or until fork-tender. While potatoes are roasting, add the pancetta to a skillet over medium-low heat. Saute for 5 minutes until crispy. Transfer to a paper-towel-lined plate. Add shallots to skillet and saute for 3 minutes. 5. In a bowl, toss the potatoes with the pancetta and shallots. Top with remaining chives and parsley. Serve with the aioli on the side.
Calico Beans – Submitted by Alesha Oppatt
Ingredients:
1/2 lb bacon
1 lb lean ground turkey
1 (15 oz) can pork and beans
1 (15 oz) can red kidney beans, drained
1 (15 oz) can cannellini beans, drained
1 (15 oz) can black beans, drained
1/2 cup ketchup
3/4 cup brown sugar
1 cup chopped onion
3 Tbsp white wine vinegar
1 Tsp mustard powder
Preheat oven to 350. Cook bacon in a skillet until crisp. Remove bacon, but leave grease in the pan. Crumble cooked bacon. Saute onion in bacon grease until softened, do not brown. Transfer onion with grease to bacon. Add ground turkey to skillet; cook on medium-high until evenly brown. In a large bowl, mix all ingredients, and place them into a large casserole dish. Cover and bake for 1 hour.
Spinach Casserole – Submitted by Betsy Varnadoe
(easiest side dish ever)
Ingredients:
2 bags of baby spinach
3 eggs
16 oz cottage cheese
2 cups shredded cheddar cheese
Saute spinach in a little oil until wilted. Drain and chop. Combine with the rest of the ingredients in a greased baking dish and bake at 350 for 1 hour.
Desserts
Momma's Southern Pecan Pie – Submitted by Chelsi McCoy
Ingredients:
4 large eggs
1 cup granulated sugar
1/2 cup dark corn syrup
1/2 cup light corn syrup
1/4 cup butter
1 1/2 teaspoons vanilla extract
1 1/2 cups pecans
1 Unbaked deep dish pie shell

In a large Ziploc bag, place pecans and slightly crush until coarsely broken. In a medium saucepan, boil corn syrup and sugar together for 2-3 minutes, then set to the side to cool slightly. In a large bowl, beat eggs lightly then very slowly pour into the syrup mixture while stirring constantly. Be careful not to pour too quickly! Stir in butter, vanilla, and pecans, then pour into crust. Bake in the oven set at 350° for 45-60 minutes or until pie is set.
Caramel Apple Cake – Submitted by Kim Johnson
Cake ingredients:
1 cup oil
2 cups sugar
2 eggs
3 cups peeled and chopped apples
2 1/2 cups flour
1 teaspoon baking soda
1 teaspoon baking powder
1/2 teaspoon salt
2 teaspoons cinnamon
1/4 teaspoon nutmeg
Caramel sauce ingredients:
1 cup brown sugar
1/4 cup evaporated milk
1/4 cup margarine
1/2 cup chopped pecans
Mix together dry and wet ingredients separately. Add in chopped apples to wet ingredients. Then add dry ingredients. Put in a prepared bundt pan. Bake at 350° for one hour. For the caramel sauce, combine ingredients on low heat and blend together. Then pour over the cake.
Brigadeiro (Brazilian Fudge Balls) – Submitted by Rosana Quintero
Ingredients:
2 tablespoons unsalted butter, plus more for hands
1 (14-ounce) can sweetened condensed milk
1/2 cup cocoa powder
Pinch Kosher salt
3 ounces chocolate sprinkles
In a medium heavy pot over medium-low heat, melt the 2 tablespoons of butter, then stir in the sweetened condensed milk, cocoa powder, and salt. Cook the mixture, stirring, until very smooth and slightly thickened, 10 to 12 minutes. Transfer the brigadeiro mixture to a bowl and chill until set, about 30 minutes. With buttered hands, roll 20 tablespoon-size balls. Roll the balls in the chocolate sprinkles. Chill until ready to serve.
Glazed Spice Bars – Submitted by Carolyn Crittenden
Yield: 2 1/2 dozen
Bar ingredients:
3/4 cup vegetable oil
1/4 cup honey
1 cup sugar
1 egg
2 cups all-purpose flour
1/2 Tsp salt
1 Tsp baking soda
1 Tsp cinnamon
1 cup chopped pecans
Glaze ingredients:
1 cup powdered sugar
1 Tsp vanilla
1 Tbsp mayonnaise
1 Tbsp water
Preheat oven to 350. Combine all bar ingredients and mix well. The dough will be stiff. Spread into ungreased 9×13 inch pan. Bake for 25-30 minutes. Combine glaze ingredients and mix until smooth. Spread over bars while they are still hot. Let cool, and cut into two-inch squares.
Pumpkin Spice Cupcakes with Maple Frosting – Submitted by Charlene Panek
Cupcake ingredients:
1/2 cup vegetable oil, plus extra for greasing the pan
1 cup all-purpose flour
1 Tsp baking powder
1/2 Tsp baking soda
1 Tsp ground cinnamon
1/2 Tsp ground ginger
1/2 Tsp ground nutmeg
1/2 Tsp kosher salt
2 extra-large eggs, at room temperature
1 cup canned pumpkin puree (not pie filling)
1/2 cup granulated sugar
1/2 cup light brown sugar, lightly packed
Frosting ingredients:
6 oz cream cheese, at room temperature
3 Tbsp unsalted butter, at room temperature
2 Tbsp pure maple syrup
1/2 Tsp pure vanilla extract
2 cups sifted confectioners' sugar
Topping:
2 (1.4 oz) Heath bars, coarsely chopped
Preheat oven to 350. In the bowl of an electric mixer fitted with the paddle attachment, cream the cream cheese, butter, maple syrup, and vanilla on medium-low speed until very smooth. With the mixer on low, slowly add the confectioners' sugar and mix until smooth. Coarsely chop Heath bars, resulting in 1/2 cup. Brush the top of a muffin pan with vegetable oil and line it with 10 paper liners. Into a medium bowl, sift together flour, baking powder, baking soda, cinnamon, ginger, nutmeg, and salt. In a larger bowl, whisk together the eggs, pumpkin, granulated sugar, brown sugar, and vegetable oil. Add the flour mixture and stir to combine. Scoop the batter into the prepared tins (I use a 2-inch ice cream scoop), and bake for 20 to 25 minutes, until a toothpick comes out clean. Cool completely. Spread the cupcakes with the maple frosting and sprinkle with the chopped Heath bars.