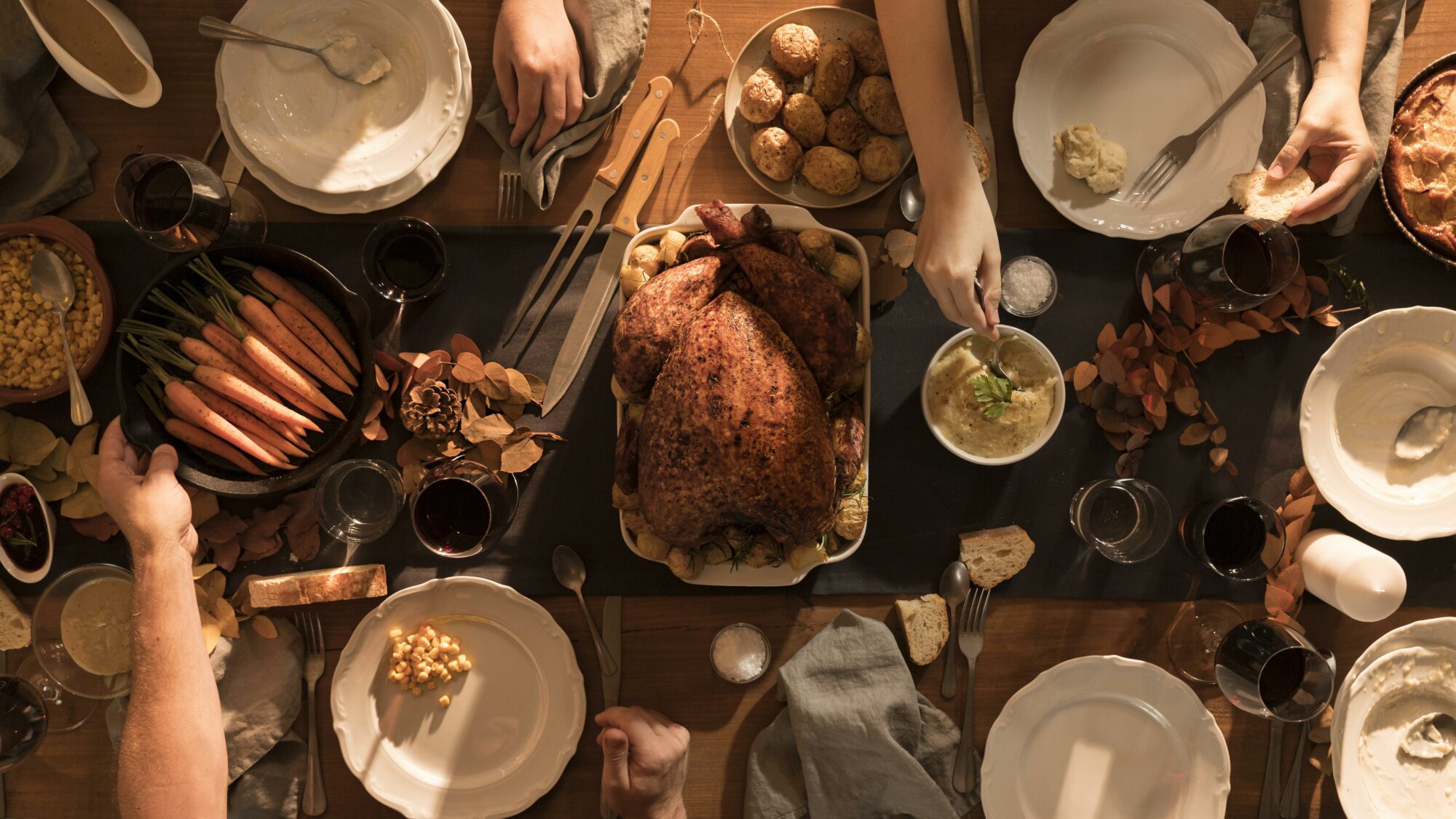 03 Nov

Celebrate the Holiday Season with Favorite Recipes from the Caine Family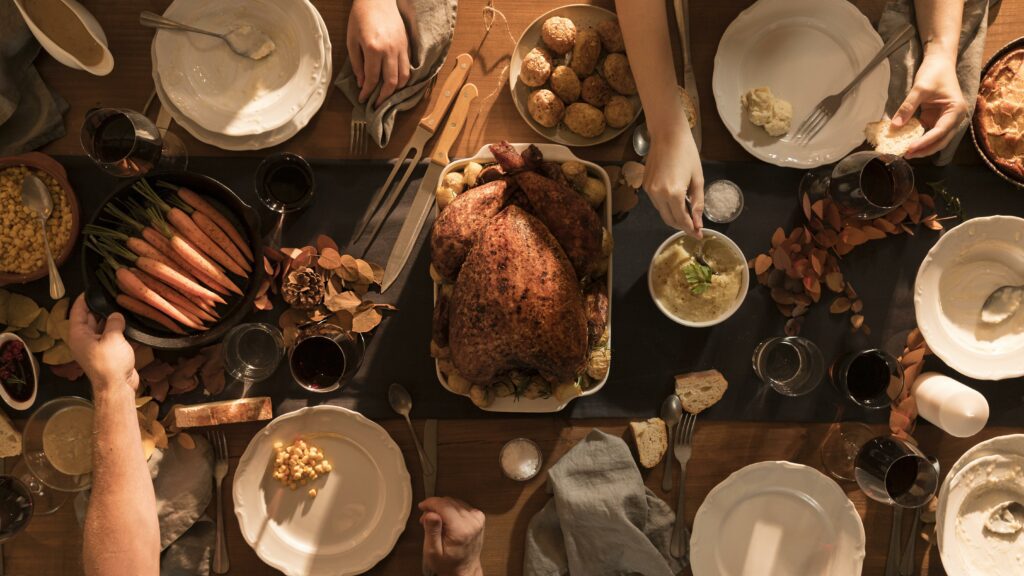 At Coldwell Banker Caine, we love any excuse to gather, especially if it's around delicious food and great company.
As you celebrate the holiday season this year, our Caine Family is pleased to share with you a collection of our favorite recipes. Whether you're prepping a holiday meal or simply spicing up the weeknight routine, we hope these dishes give you an excuse to gather around a table with the people you love.
Appetizers
Bruschetta
Ingredients
8 slices of Italian Bread
1/2 cup cream cheese
1/4 cup basil pesto
1 7oz jar of roasted red peppers, drained & chopped into 1/2 in strips
1 large tomato chopped into very small pieces
Instructions
Brush bread with thin layer of olive oil. Grill or bake slices until slightly brown (not hard). Spread each slice with a layer of cream cheese, then a thin layer of pesto. Top with roasted pepper and chopped tomato. Serve immediately.
Creamy Wasabi Spread
Ingredients
1 8 oz package cream cheese
1/4 cup prepared wasabi
2 Tbsp sesame seeds, toasted
2 Tbsp soy sauce
Rice crackers
Instructions
Place cream cheese on a cutting board; split into two layers. Spread wasabi over bottom half; replace top layer. Press both sides into sesame seeds. Place on a shallow serving plate; pour soy sauce around cheese. Serve with crackers.
Date Cheese Balls
*Yields 3 Cheese Balls
Ingredients
3 8 oz Cream cheese
10 to 12oz Chopped sugared dates
1.5 to 2 cups pecans; chopped and mealed
Instructions
Set cream cheese out for about 1 hour to soften, then stir until smooth. Add chopped sugared dates and 1/2 cup of very finely chopped pecans. Mix with your hands until dates and pecans are mixed well into cheese. In the bowl, separate the cheese into 3 piles. Lay out a large/long sheet of wax paper and put the 1 cup of chopped pecans on it. Lay out 3 large pieces of foil, one for each ball. Take each of the 3 separate piles of cheese mixture and roll into a ball in your hands. Roll each ball in the chopped nuts until covered. Lay each ball onto a piece of foil and cover tightly. Put them in a large freezer bag to store.
Roquefort Dressing (aka Blue Cheese Dressing)
Ingredients
1 large bowl
1-2 jars of refrigerated prepared chunky blue cheese dressing
Black Pepper
1 container of blue cheese crumbles
Instructions
Place container of blue cheese crumbles into bowl. Add 1-2 jars of refrigerated prepared chunky blue cheese dressing to large bowl. Add heaping portion of black pepper. Stir with large spoon, but do not smash crumbles (you want this dressing CHUNKY). Cover in plastic and refrigerate for at least 2 hours, but 24 hrs is best.
Place in middle of serving tray and serve with the following:
Cut celery into small sections. Cut celery both horizontally AND vertically (I call this "shoestring celery")
Place shoestring celery in bowl with ice and submerge in water for 30 mins – 1 hour
Pour in strainer and serve with Roquefort dressing while watching the Gamecocks play football (nope, NOT Clemp-Son' just Gamecocks)
Notes: Serve with carrots chilled and prepared just like shoestring celery.
Serve ALL of the above with your choice of chicken wings and get ready to be asked for this Roquefort dressing recipe. You will also hear this… How did you make this celery so crispy and cold?!?
The Best Tomato Soup
Ingredients
2 Tbsp olive oil
2-3 Tsp minced garlic
1 Tsp onion powder
1 Tbsp Italian seasoning
2 cans of condensed tomato soup
1 cup half and half
1/2 Tsp salt
1/2 Tsp pepper
9 oz package of cheese filled tortellini
1/2 cup shredded Parmesan cheese for garnish
Instructions
Sauté garlic with the olive oil and sun dried tomatoes, onion powder, and Italian seasoning in a large stock pot over medium heat. Add tomato soup, half and half, and chicken stock and bring to a simmer. Once simmering, drop tortellini into the soup and cook according to the package directions. Once tortellini are cooked, serve topped with Parmesan cheese.
Entrees
Baked Vegetable Casserole
*Yields 12 Servings
Ingredients
4 Large yellow squash
8 Large tomatoes
4 Large zucchinis
6 Medium white onions
Salt and pepper to taste
Butter
Grated Parmesan cheese
1 cup grated mozzarella cheese
Instructions
Preheat oven to 325. Grease two 2-quart deep dish casseroles. Slice squash, tomatoes (skin on), zucchinis and onions, thinly. Layer the two casserole dishes with yellow squash; sprinkle salt and pepper; Dot with butter; sprinkle Parmesan cheese. Repeat process with tomatoes, then zucchini, then onions. Repeat layers until dishes are filled. Bake at 325 degrees for 45 minutes, or until tender and bubbly. Sprinkle top with mozzarella cheese; bake for 5 more minutes.
Slow Cooker Pork Tenderloin
Ingredients
1 lb pork tenderloin
1/4 cup soy sauce
1.5 Tbsp yellow mustard
2 Tsp olive oil (I use EVOO)
3 Tbsp maple syrup
1 Tsp onion powder
2 Tsp minced garlic
1 Tbsp black pepper
Red potatoes
Carrots
Instructions
Turn on slow cooker to Low. Cut tenderloin in half. In medium mixing bowl, stir together- soy sauce, yellow mustard, olive oil, maple syrup, onion powder, pepper and minced garlic. Stir WELL! Place tenderloin in slow cooker and cover with sauce. Cut carrots and potatoes to preferred size and add on top of tenderloin. Set timer for 3 hours, once timer goes off flip tenderloin (make sure veggies stay on top of tenderloin). Set another 3 hour timer. Once meat is cooked thoroughly, enjoy!
Honey Pecan Salmon
Ingredients
6 oz salmon fillets (thick cut-about 2 inches)
1 Tsp Dijon mustard
2 Tsp melted butter
1 1/2 Tsp Honey
Toppings
1/4 cup bread crumbs
2 Tsp chopped parsley
1/4 cup chopped pecans
Instructions
Season salmon with salt and pepper to taste. Put a sheet of foil in a pan and spray with Pam. Place salmon, skin side down, in pan. Combine butter, mustard, honey; brush on salmon fillets. Combine toppings and sprinkle over top of fillets. Bake at 450 for 10 minutes or until fish is flaky.
Side Dishes
My Mother's Mexican Cornbread
Ingredients
2 cups cornmeal mix
4 eggs, beaten
1 cup sour cream
1 cup plain yogurt
1/3 cup vegetable oil
1 can creamed corn
1/4 – 1/2 Tsp salt and pepper
Instructions
Preheat oven to 425 degrees. Mix all ingredients and pour into a preheated and greased cast iron skillet, muffin tins or pan of your choice. Bake for 30 minutes.
Mediterranean Vegan Orzo Salad
Ingredients
16 oz orzo
Jar of Kalamata olives; sliced in half
Pint of cherry tomatoes; sliced in half
1 medium red onion; chopped
1 bell pepper; chopped
1 can of chick peas; drained and rinsed
1 can of artichokes; drained and sliced
4 Tbsp of lemon juice
1 Tbsp of lemon pepper
1/2 Tsp of oregano
1 bunch of parsley chopped
Instructions
Cook orzo per instructions on the box. Add all ingredients and chill.
Sweet & Spicy Green Beans
Ingredients
3/4 lb fresh green beans, trimmed
2 Tbsp soy sauce
1 garlic clove
1 Tsp Thai chili sauce
1 Tsp honey
2 Tsp olive oil
Instructions
Mix all ingredients together. Cook in microwave for about 15 minutes, or on stove for desired crispiness of veggies.
Rosemary Creamed Corn
Ingredients
2 pounds frozen corn kernels (2-16 oz packages), separate out 1 cup
4 tablespoons butter, cubed
Non-stick Cooking Spray
1/2 cup heavy cream
4 ounces (1/2 package) cream cheese, cubed
1 cup ricotta cheese
1 tablespoon flour
1/2 tablespoon sugar
1 teaspoon sea salt
1/2 teaspoon garlic powder
1/4 teaspoon onion powder
1/4 teaspoon black pepper
1/4 teaspoon paprika
1/4 teaspoon rosemary
1/4 teaspoon thyme leaves
Optional: Dash of cayenne pepper
Optional: 10z chopped sundried tomatoes (not ones in oil)
4-6 strips of bacon, cooked and crumbled
Green onions, chopped
Instructions
Place 1 cup of the corn, cream, cream cheese, ricotta, flour, sugar, and all of the seasonings in blender container; cover. Blend on high speed until smooth. Spray inside of slow cooker with non-stick cooking spray. Mix remaining corn, butter, and blended corn mixture and sundried tomatoes (optional) in slow cooker until blended. Cover. Cook 4 to 6 hours on LOW or 2 to 4 hours on HIGH until desired consistency, stirring occasionally. Season with additional salt and pepper to taste, if desired. Top with bacon and/or green onions. Stir well before serving.
Desserts
Blueberry Pie
*Yields 2 Pies
Ingredients
1 can unsweetened blueberries, drained
1 can Eagle brand sweetened condensed milk
1/3 cup chopped toasted pecans (as desired)
1/3 cup lemon juice
8 oz Cool Whip
2 graham cracker crusts
Instructions
Combine blueberries, milk, and nuts. Add lemon juice and mix thoroughly. Fold in cool whip and pour mixture into crusts. Chill for 1 hour.
Chocolate Chip Pound Cake
Ingredients
1 (18.25 oz) yellow cake mix with pudding
1 (3.9 oz) pkg chocolate instant pudding
1/2 cup sugar
3/4 cup vegetable oil
3/4 cup water
4 large eggs
1 8 oz carton sour cream
1 cup (6 oz) semisweet chocolate morsels Sifted powdered sugar
Instructions
Preheat oven to 350. Combine first 3 ingredients in a large mixing bowl, stirring with a wire whisk to remove large lumps. Add oil and next 3 ingredients, stirring until smooth. Stir in chocolate morsels. Pour batter into greased and floured 12 cup Bundt pan. Bake for 1 hour or until a wooden toothpick inserted in center comes out clean. Cool cake in pan on wire rack for 10 mins. Remove from pan and let cool completely on wire rack. Sprinkle with sifted powdered sugar.
From our Caine Family to yours, we hope your holidays are filled with family time, many smiles & countless blessings.