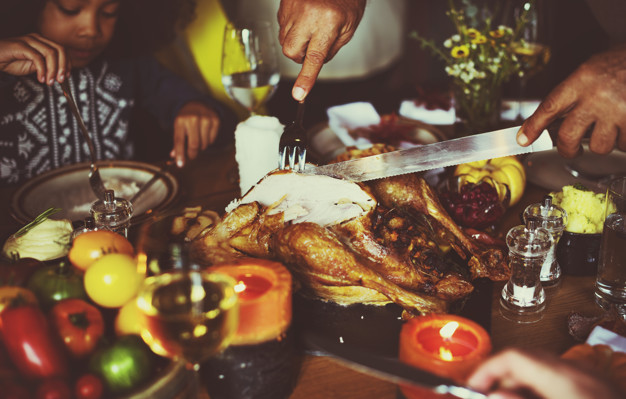 21 Nov

Thanksgiving: Our Favorite Traditions

Thanksgiving. Turkey, parades, family, football – the holiday that brings us together and reminds us what we're thankful for. What often makes the day so special, though, are the traditions you hold within your family. We rounded up the marketing team to see what their favorite Thanksgiving rituals are…maybe this year will be the beginning of a new tradition for you and yours!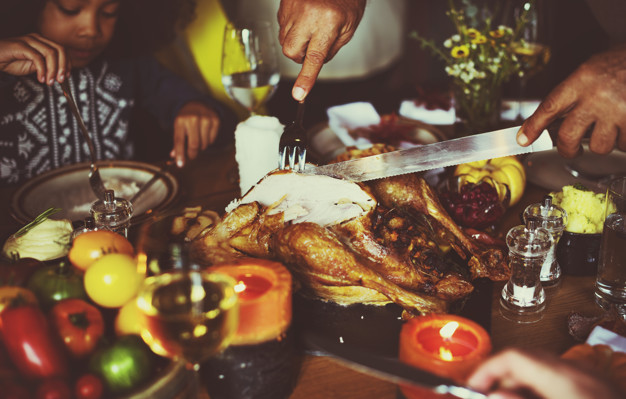 Marisa Stephens, Digital Strategist –
My family always serves riced potatoes on Thanksgiving – think mashed potatoes but lighter and fluffier! Not only are riced potatoes one of my favorite things to eat, but they also bring back wonderful childhood memories of my grandma visiting from Wisconsin for the holidays. I remember watching and waiting in anticipation as she spooned the cooked potatoes into the ricer and my dad pressed the handles together over the bowl where they'd emerge ready to serve. Now I have the honor of helping with this dish each year, and it always reminds me of her. Family and food – that's what Thanksgiving is all about, right?
James Prow, Graphic Designer –
Thanksgiving is extra special for me because I was born on Thanksgiving Day. So, there's another reason for everyone to be extra thankful! Also, I love pie.
Virginia Wilson, Content Specialist –
Growing up in a family of five, our busy schedules meant an unhurried meal together was a rare occurrence.  However, at Thanksgiving, I knew I could count on quality time around the table with my family. I also counted on my mom telling us to go around and share what we were most thankful for that year. Though my younger brothers used to cringe at the mushy question, the tradition continues, and we appreciate the chance to reflect on the year's goodness together.
Lucy Pressly, Marketing Services Specialist –  
In addition to food and family, my favorite part of Thanksgiving is watching the Macy's Day Parade and then the Dog Show. We might be partial because of our family dog, Sadie, but we love cheering on the sporting group – especially the labs. Most of all I enjoy a quiet morning with my family.
Kate Dabbs, Director of Marketing and Operations –
Since getting married six years ago, our Thanksgivings have all been different. The first few years, my husband worked Black Friday, so we stayed in town and made some fun traditions with just the two of us, including a six-mile "urban hike" through our favorite downtown neighborhoods with our dog while the turkey finished smoking. Last year, after buying our first home, we boldly hosted the holiday for the first time and welcomed our family and their five dogs to join us. We always enjoy the cooking and planning process and often try something new. This year, I am bringing with me my sister in law's Wisconsin family tradition of a cranberry sorbet palate cleanser. It is a fun take on the unofficial fruit of Thanksgiving and brings a little bit of the other side of the family into my own traditions.
What are you most looking forward to this year? Whether it's a dish, time with family, or a longstanding tradition, from the office of your favorite marketers, we wish you a very happy Thanksgiving!