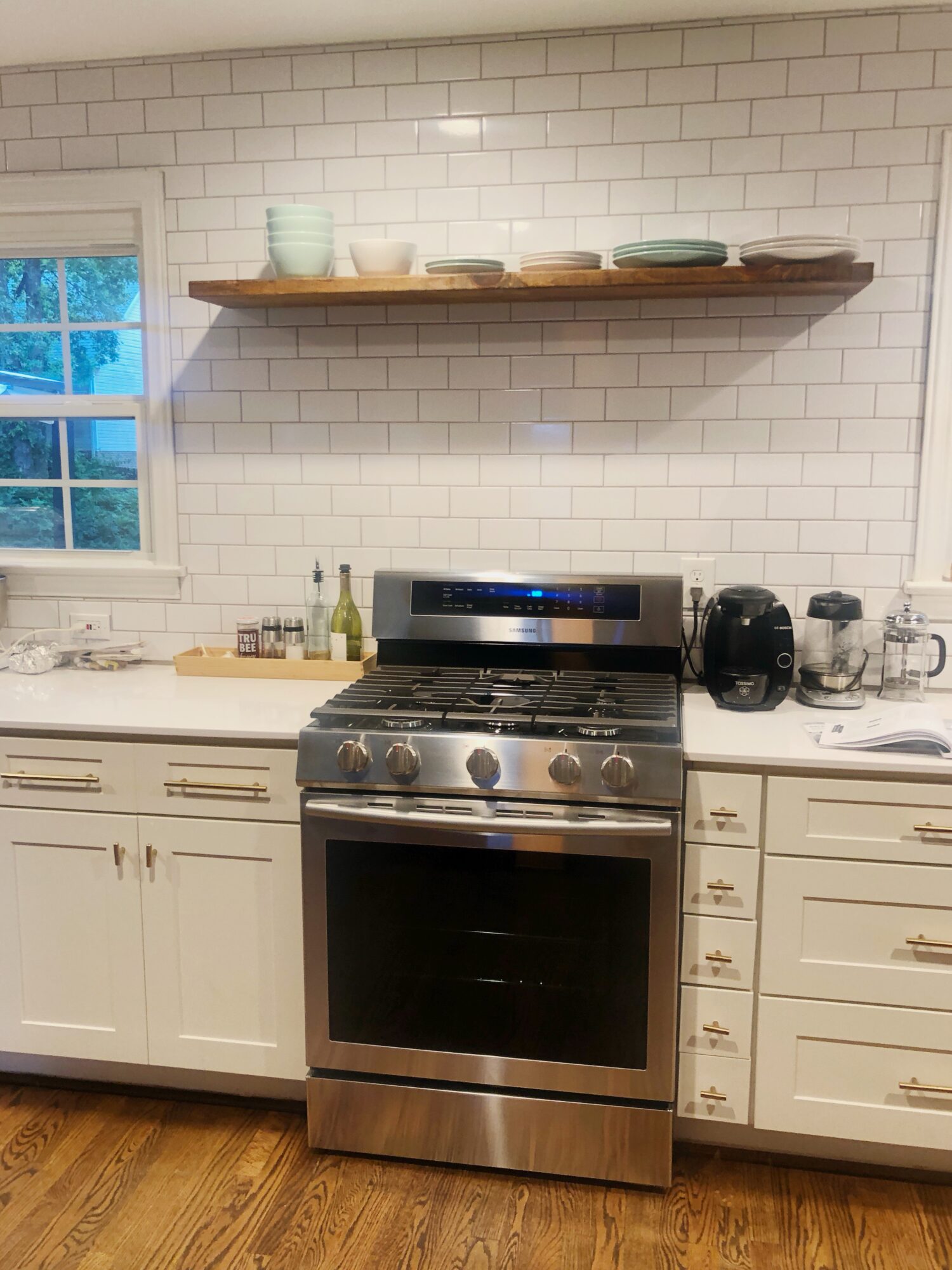 06 Aug

Electric or Gas: Which Range is Right for You?

Oven, range, stove… what's the difference? To be honest, I wasn't quite sure until recently. To clarify, an oven is a chamber used for baking, roasting, and broiling. A stove is a cook-top with burners. Put them together, and you have a range!

If it's time for you to replace the range in your kitchen, you might be wondering whether to go electric or gas. As someone who just made the switch to gas, I have some tips to share to help you make the decision.

Here's a quick "Pro" list for both options.
Pros to Electric Ranges:
Easy to clean
Easy to operate
Provides an even work surface
Generally, less expensive to purchase and install
Pros to Gas Ranges:
Heats up instantly
Provides a consistent, even cook – especially needed when using cast iron, a paella pan, or a wok
More energy efficient/less expensive to operate
During a power outage, burners can be ignited with a lighter or match
There's no clear winner to this debate – it really depends on your lifestyle. If you are a beginner cook or on a tight budget, electric may make the most sense for you. If you are a home chef that enjoys the opportunity to make a wide array of dishes and are open to making a larger investment, go with gas.
My husband and I have always dreamed of having gas so when our electric range started giving out just a year into owning our home, we weren't too upset. However, making the switch was a bit more involved than we imagined.
If you're thinking of going for gas, here are a few factors to consider that can take your install from simple to complex (and pricey). 
Do you already have gas in your home?
If you already have something running on gas (a dryer, water heater, fireplace, heat pump, etc.), then you already have a line to your home, a gas meter, and an account with the gas company so there's a bit less setup (and therefore, cost) involved.
While we didn't have anything connected to gas or gas turned on, a previous owner had a gas water heater at some point so the meter and line were already in place. All we had to do was extend it to our kitchen, which made our install more affordable.
Will you need to alter your cabinets or storage?
With an open flame, you can't have anything flammable too close to the cooktop. Our gas company required cabinets or shelves above the range to be at least 30" from the cooktop, and cabinets on either side of the range to be at least 18" above the counter. Make sure to check with your provider for their required measurements.
While thankfully we didn't have any cabinetry that had to be altered, we did have two wooden, floating shelves above our range, and the lower shelf was below the 30" mark. At first, I was quite worried about removing it as I knew we'd be left with holes in our backsplash where the supports were drilled in. Thankfully, I found a tile repair kit on Amazon that did a pretty great job of camouflaging, and soon, we'll be re-hanging that shelf a few inches higher to gain some storage space back. We also have white countertops so a contractor advised us to raise our range so the cooktop was at least 1/2" higher than the counter to avoid discoloration from the heat.
Will you need a permit, and who will do the work?
A permit is often required to get a gas line installed or extended – and the cost can vary greatly depending on what city and county your home is located in. Another factor to the cost is who you have complete the work. It's a good idea to get quotes from both the gas company and outside contractors to make sure you understand all of your options.
In our case, it was much cheaper and easier to use the gas company since they could get the permit, do the labor, and turn the gas on – all in one visit.
Will you be going with all-gas or dual-fuel?
When it comes to gas ranges, you have two options. An all-gas range means that both the cooktop and the oven are powered by gas while a dual-fuel range combines a gas cooktop with an electric oven. All-gas ranges require a 120V electrical outlet, while electric ranges and dual-fuel ranges require a 240V outlet. If you're going all-gas, you may need to hire an electrician to change the voltage to the outlet behind your range and to switch out the corresponding breaker in your fuse box.
While adding an electrician to the mix creates some additional cost, dual-fuel ranges are typically much more expensive to purchase than all-gas ranges. It made more sense for us to go all-gas.
Should you future proof while you're getting the work done?
After getting our quotes back, we found that the cost of labor is the most expensive piece of the puzzle. If you're considering switching anything else to gas in the near future, you could save some money by having it all done in one visit.
We are planning on building a deck in our back yard and would love to have a gas grill when that is complete. It was only an additional $20 or so to have them add that hookup while they worked on extending our line for the range. Basically, we just had to pay for a few additional parts, which was much more cost-effective than having them come back at later date.
With all options considered, we are so glad we made the investment to switch to a gas range. Whichever way you decide to go, I hope this advice was helpful and that you enjoy many delicious home-cooked meals as a result!
About the Author
Marisa Stephens is the Digital Strategist and resident foodie at Coldwell Banker Caine. In her free time, she enjoys traveling, drinking craft beer and spending time with her husband, Louis, and their dogs, Winston and Nigel.