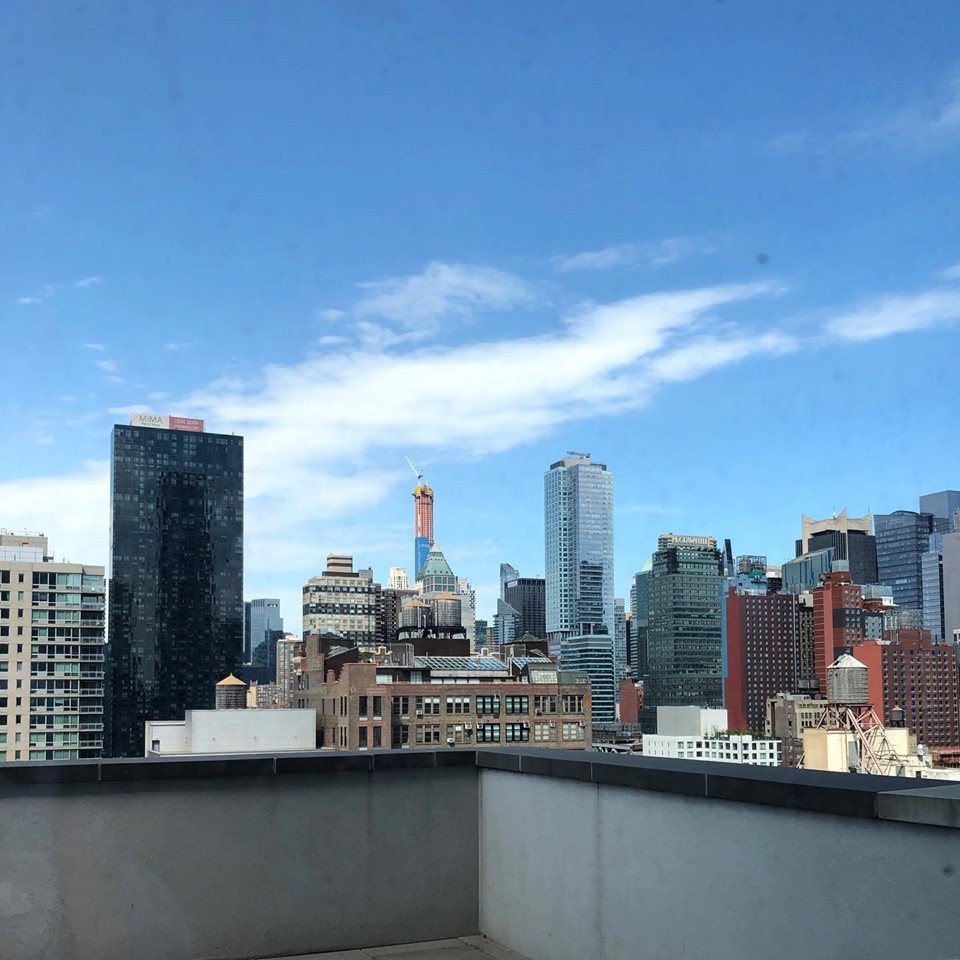 05 Jun

Copy This NYC Itinerary & Follow Your "Hungerlust"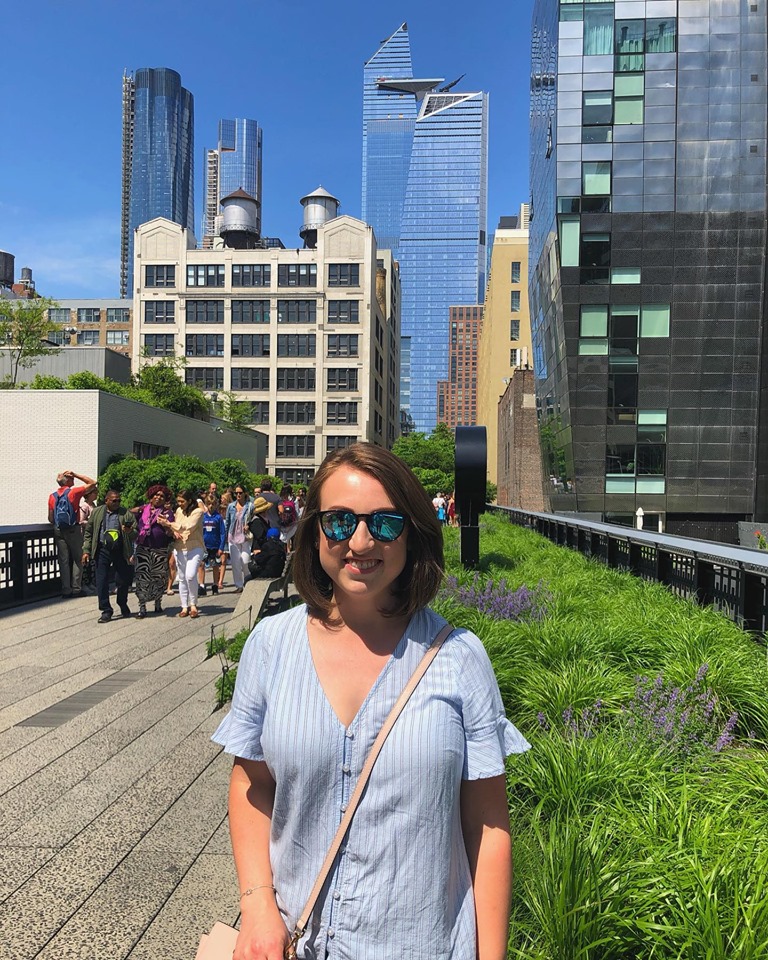 I never knew how to describe the way my husband and I explore the world until I saw a t-shirt with this definition printed on it:
Hungerlust [huhn-ger-luhst] noun
: the strong desire to travel or wander for food
Though I didn't buy the shirt, this word and thought stuck with me. When in a new city or country, instead of seeking out attractions, museums, and "must dos," we are driven to try new or award-winning cuisine instead. Rather than tourist traps, we wander until we find hidden gems and interesting neighborhoods.
Friends, family, and co-workers follow our travels on Instagram and often "ooh" and aah" over my food pictures. Then they request that I send them our trip itinerary afterward so they can copy it for their next adventure. Well, ask and you shall receive.
If you're considering a trip to NYC and want to indulge your "hungerlust," feel free to borrow some ideas from my recent trip.
Day 1
6 AM: Depart GSP
Though getting up at 3:30 AM to go to the airport wasn't super fun, it put us at Newark Airport by 8:15 AM.
9 AM: Arrive in NYC
Taking the train from Newark to Penn Station got us to NYC by 9 AM, and our hotel was just a few blocks away so it was easy to drop off our luggage and get on our way.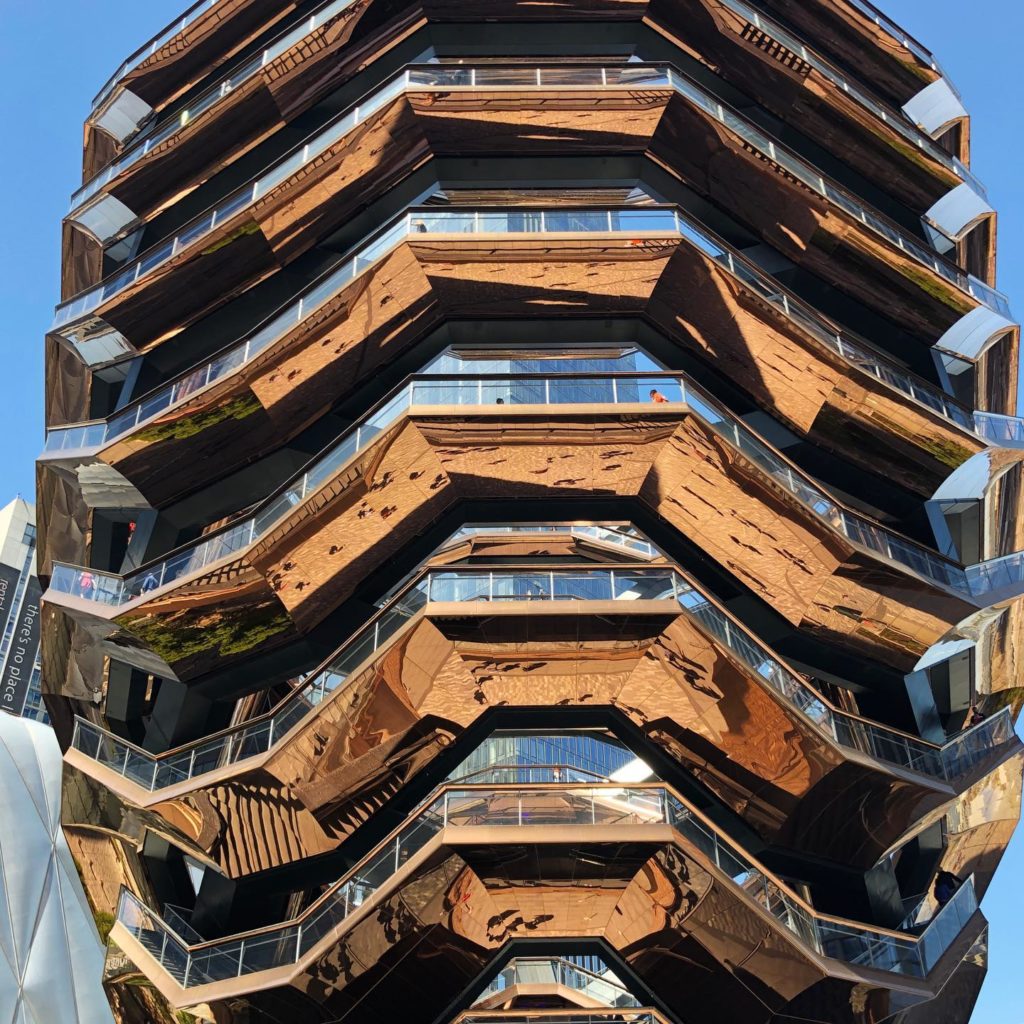 10 AM: Coffee, Shopping & Lunch at Hudson Yards
By 10 AM, we were headed to Hudson Yards, just two blocks from our hotel. A $25 billion development, the first phase of Hudson Yards opened earlier this year with eight structures that contain residences, office buildings, and a mall. If you've seen photos of Hudson Yards, you've likely seen the "vessel," a honeycomb looking structure consisting of 154 interconnecting flights of stairs. Though we didn't climb this interactive piece of art (you'll need reservations a few weeks in advance), it was definitely a sight to behold.
Plus, the mall at HY is not just any mall – there are five stories of luxury stores, fast casual restaurants, coffee shops, and food markets. On Day 1, we enjoyed Blue Bottle Coffee, B8TA, Shake Shack, and Dylan's Candy Bar (you've got to try the chocolate bar with pop rocks inside) in particular.
1 PM: Walk the High Line
From Hudson Yards, our next adventure was to walk the High Line to Chelsea Market. Built on a historic, elevated freight line, this 1.5-mile green space and walkway above the streets is a fun way to see this part of the city.
2 PM: Snacks + Drinks at Chelsea Market
At the other end of the High Line is Chelsea Market, a food hall and shopping mall in the original Nabisco building (Fun Fact: The Oreo was invented here). There are some great little vendors outside selling everything from juices to bratwurst. We grabbed some dumplings and a local beer then headed inside briefly to determine that we'd definitely need to come back another day to take full stock of the many options here.
3 PM: Check into the Hotel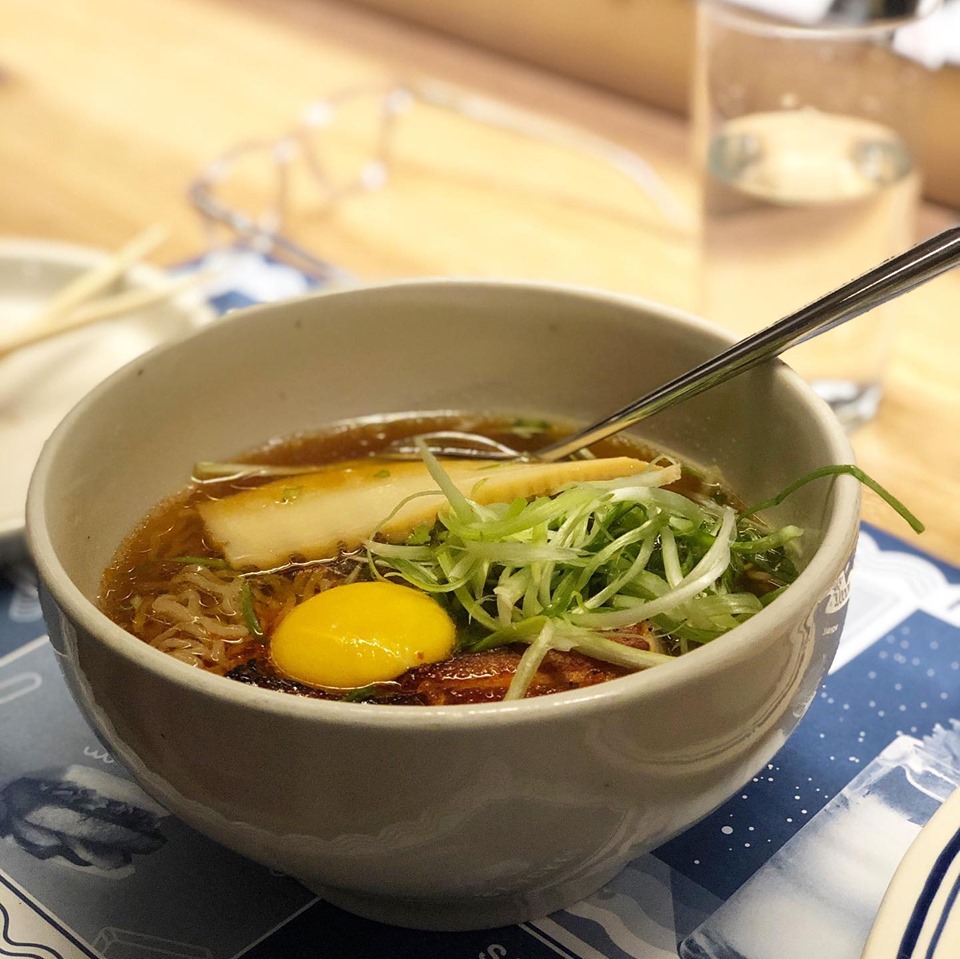 5 PM: Dinner at Momofuku Noodle Bar
This was our first destination that was beyond walking distance. We purchased an unlimited 7-day subway pass for $33. We definitely got our money's worth throughout our time in the city – highly recommend.
We've watched many a food documentary on PBS, Netflix, and the like so we're big fans of David Chang. That meant eating at one (or more) of his restaurants was a must. We chose Momofuku Noodle Bar at Columbus Circle. Though not this location, Noodle Bar was Chang's first restaurant. This was the one meal we made sure to make reservations for in advance. We sat at the kitchen bar so we'd have a view of the dishes coming together. Our selections included a matcha cocktail, a Toki highball (Japanese whiskey + soda water), fried Japanese potatoes, pork ramen, and ginger scallion noodles. It did NOT disappoint.
6 PM: Walk Through Central Park
Columbus Circle is located on the lower Southwest corner of Central Park so, after dinner, we walked off some of our noodles in the park and the surrounding area.
Day 2
11 AM: Coffee at Hudson Yards
We let ourselves catch up on some sleep, then headed to Bluestone Coffee for breakfast at Hudson Yards. This Australian joe joint seems to be popular as we walked by quite a few during our time in NYC.
12 PM: Flatiron District for Lunch
Next, we ventured to Eataly, Chef Mario Batali's Italian marketplace where you can shop, eat, and learn. From the coffee shop to the focaccia bakery to the gelato counter, you get all of Italia's best vendors and foods condensed into one location here. We perused for a while but ultimately sat at the pasta bar for some freshly made farfalle with a glass of wine.
2 PM: Walk Through Koreatown
Koreatown is a short walk from the Flatiron building. Densely focused in two blocks, this is where to come for all things karaoke, k-beauty, k-pop, and more. Unfortunately, we were a little too full from Eataly to indulge in the cuisine.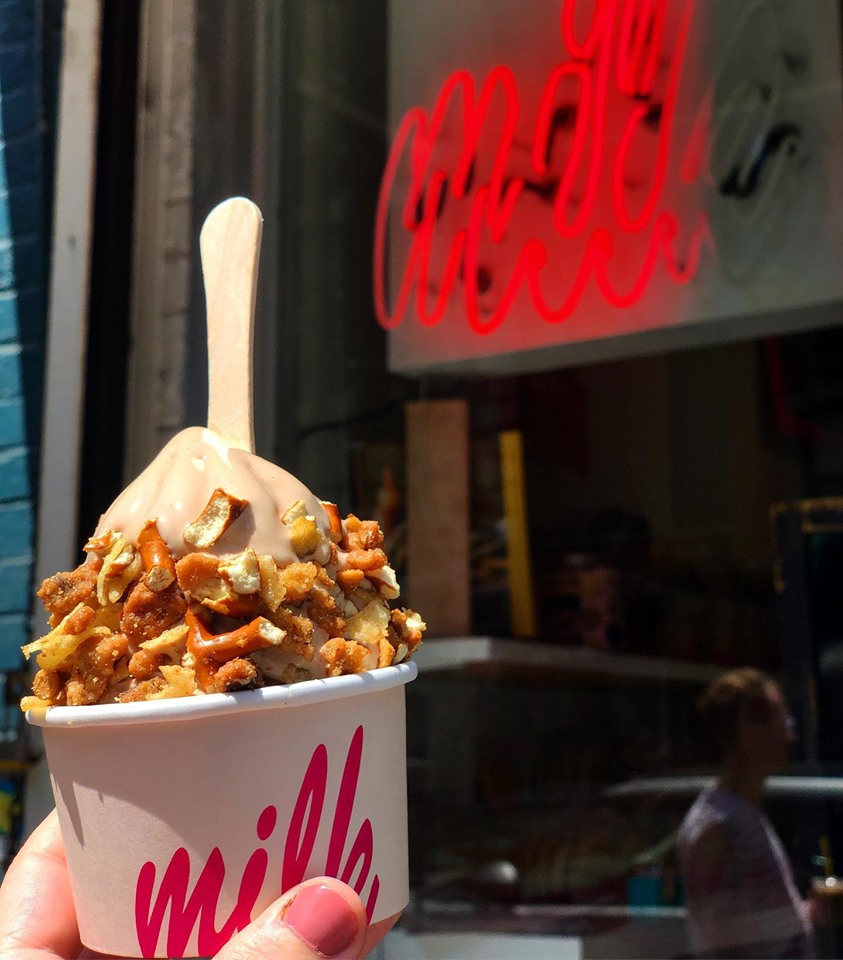 3 PM: East Village Eats
However, I'm never too full for dessert, and I couldn't wait to get to a Milk Bar. By David Chang and Christina Tosi (famous pastry chef and Masterchef Junior judge), this place is known for their compost cookies, crack pie, and cereal milk. I found out that crack pie lives up to its name when I got to try it in Vegas at GenBlue so I was eager to try more of their offerings. Though apparently since then, they've had to rebrand it to "Milk Bar Pie." What a shame.
This time, I went for the compost cookie soft serve (kitchen-sink cookie ice cream topped with pretzels potato chips, graham crackers, coffee, oats, and butterscotch for sweet and salty perfection). My mouth is watering just thinking about it. We also enjoyed stumbling upon Black Emperor, an Asian influenced bar with snacks, in our mosey around this area.
6 PM: The Ultimate Craft Cocktails
Next, we headed to the mecca of craft cocktails, Death & Company. The nondescript wooden door that leads to this magical wonderland of drinks might be easy to miss – except for the line around the block before their 6:00 PM opening. Once you get in, you're taken behind the heavy, black curtains to a practically pitch-black room with a bar that sits only about 10 people and a handful of other small tables. The cocktail list is long, and the bartenders move with intense speed. Venture to the last few pages of the menu to really indulge in a luxurious drink that will cost you upwards of $20, but "when in Rome," it's worth the splurge. We also ordered their book via Amazon Prime while we sipped so it was awaiting us when we returned home. Stay tuned for a future blog post on craft cocktail making…maybe.
8 PM: Late Night Fried Chicken
To end day two, we headed back to Hudson Yards once again for David Chang's fried chicken shop, Fuku. Yes, we are a little obsessed with him. Best fried chicken sandwich I've ever had.
Day 3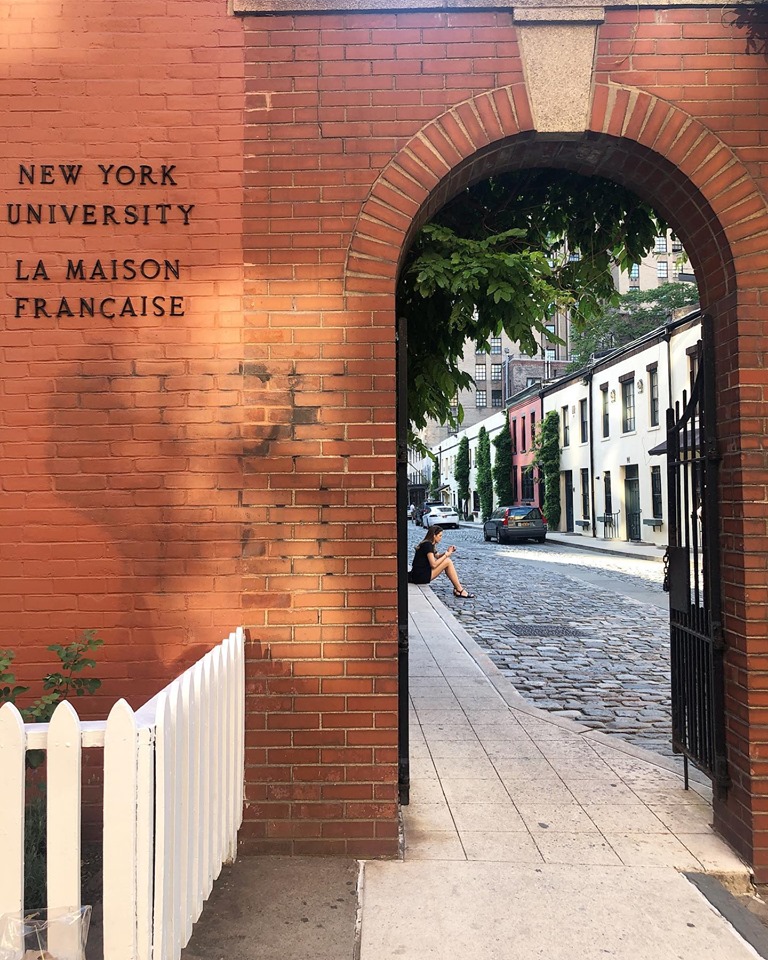 10 AM: Brunch in Greenwich Village
Greenwich Village wasn't on our top places to visit, but it ended up to be one of our favorite neighborhoods to explore! Home to NYU and plenty of cozy restaurants, it was especially abuzz on Memorial Day weekend with families visiting their college kids and helping those students move out at the close of the semester. We went to The Doughnut Project for a blueberry yuzu creation, then had a taste of Beruit at Manuosheh. We're definitely going to try and replicate this Lebanese dish of dough with delectable toppings at home.
12 PM: Walk Through Chinatown & Little Italy to Canal Street Market
That afternoon we explored some shops in Chinatown and walked through Little Italy, eventually landing at Canal Street Market. Another food hall and retail space (we really like these), this market offers clothing, art prints, ramen, coffee, Koren-Mexican fusion food, and more. We took the long queue at Boba Guys as a sign that we had to try their bubble milk tea. It was a good move. With a strawberry matcha latte in hand, we carried on to our next destination.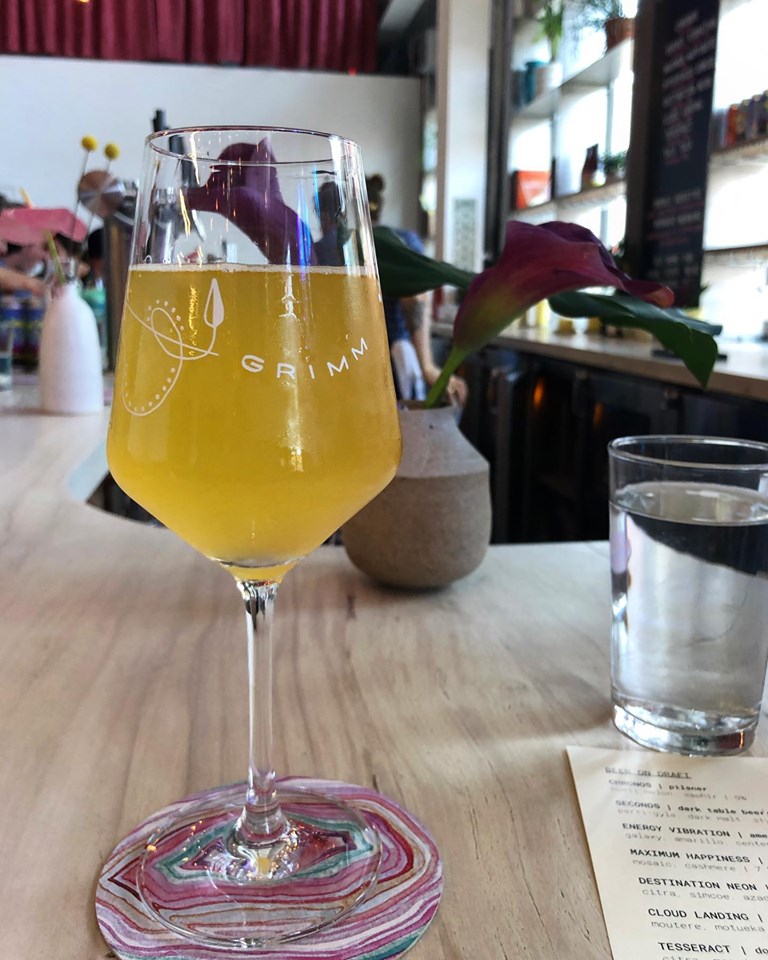 2 PM: Brooklyn Breweries
As craft beer enthusiasts, we usually find at least one or two breweries to go to when we're on vacation. If you're looking for craft beer in New York, Brooklyn seems to be the place to go. We went to Williamsburg to hit up Grimm Artisanal Ales. Specializing in Belgian-style ales, you can get a variety of their brews on draft in the taproom and even some snacks. I really enjoyed the airy and colorful atmosphere. Just down the street, we happened upon Interboro Spirits and Ales and got a flight of their three variations of "Devils In The Details," a barrel-aged sour. It was fun to test our palettes and see if we could identify the differences in the same beer made three ways.
6 PM: Back to Greenwich Village
We scoped out a few places that morning that we just had to go back for. One was Pomme Frites NYC. Yes, this is a tiny restaurant dedicated completely to perfectly cooked Belgian fries and 34 sauces to dip them in. 34 SAUCES! Last but not least, we went to the famous Joe's Pizza. Joe's has been offering classic NY-style pizza since 1975 and has been named the best pizza in New York by many publications and travel guides. You really feel like a local chowing down on a greasy slice from a paper plate while you're standing on the sidewalk amongst students discussing the intricacies of an indie movie they had to watch for film class.
Day 4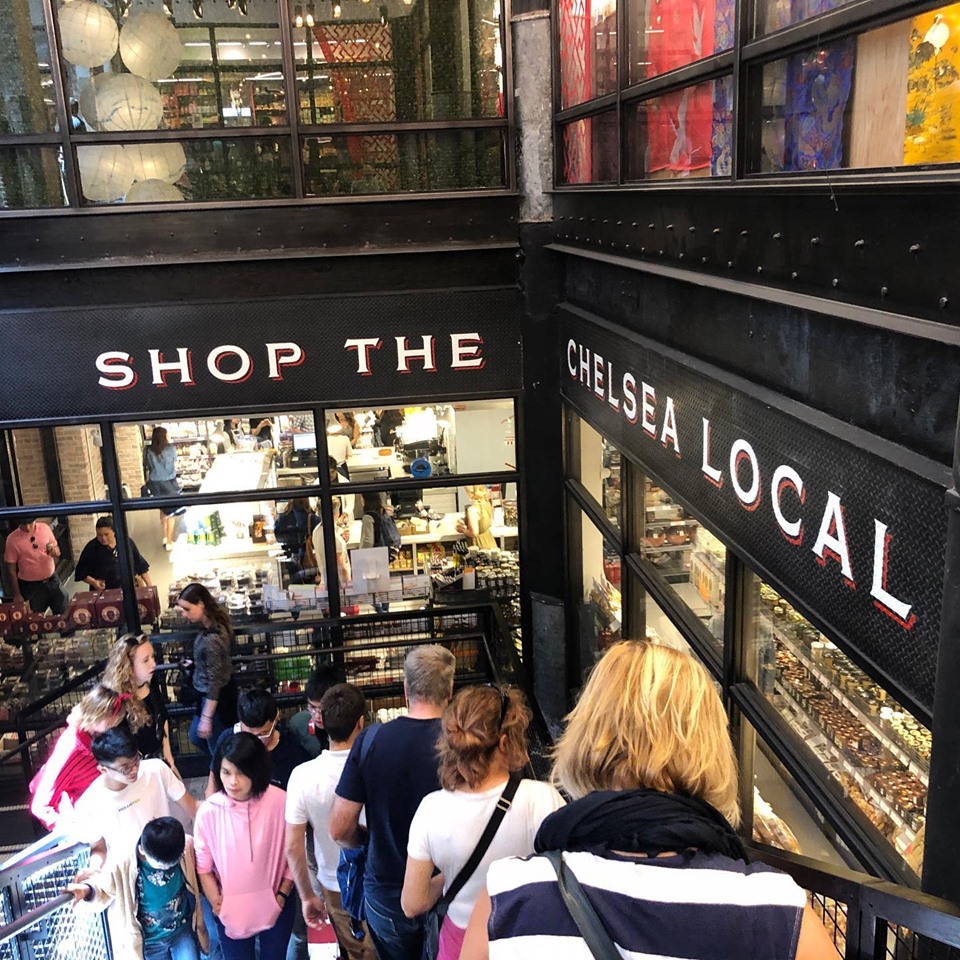 10 AM: Coffee & Lunch at Chelsea Market
On our last day, we decided it was time to revisit Chelsea Market and explore more of their many vendors. We enjoyed lavender pistachio vanilla sugared, bite-sized doughnuts from Doughnuttery (who I found out also have a Myrtle Beach location), lattes from Chalait, and made-to-order burrata from Big Mozz.
1 PM: Little Spain at Hudson Yards
Yep, we went back to Hudson Yards again. That place has so much to offer. We didn't know how wise we were in picking a hotel just two blocks away. This time we went straight for Mercado Little Spain. Think Eataly, but Spanish. There's a bravas station, a churro area, cured meats & cheeses, and more. We bee-lined for the tapas bar and then to "Bar Celona" (get it?) for sangria. Also, we went to Fuku a second time for a mid-afternoon "dinner" because it is THAT good.
4 PM: Back to Newark
11 PM: Home…
The original plan put us back at GSP around 10:30 PM. Unfortunately, as these things sometimes go, there were some thunderstorms, and our flight was canceled. We ended up spending the night in the airport. I think we learned our lesson not to take the last flight out.
All in all, it was a wonderful trip, and even with our troubles getting home, we're ready to go back for another weekend! Though before that, I've got to get some steps in for #ThriveCaine to counteract the indulgences I've described above.
This was a long one – thanks for sticking with me to the end! Bon voyage!
Looking for other locales to travel to? Check out our previous post on other easy flights from GSP.
About the Author
Marisa Stephens is the Digital Strategist and resident foodie at Coldwell Banker Caine. In her free time, she enjoys traveling, drinking craft beer and spending time with her husband, Louis, and their dogs, Winston and Nigel.