23 Aug

AR Workshop: Where DIY Dreams Come True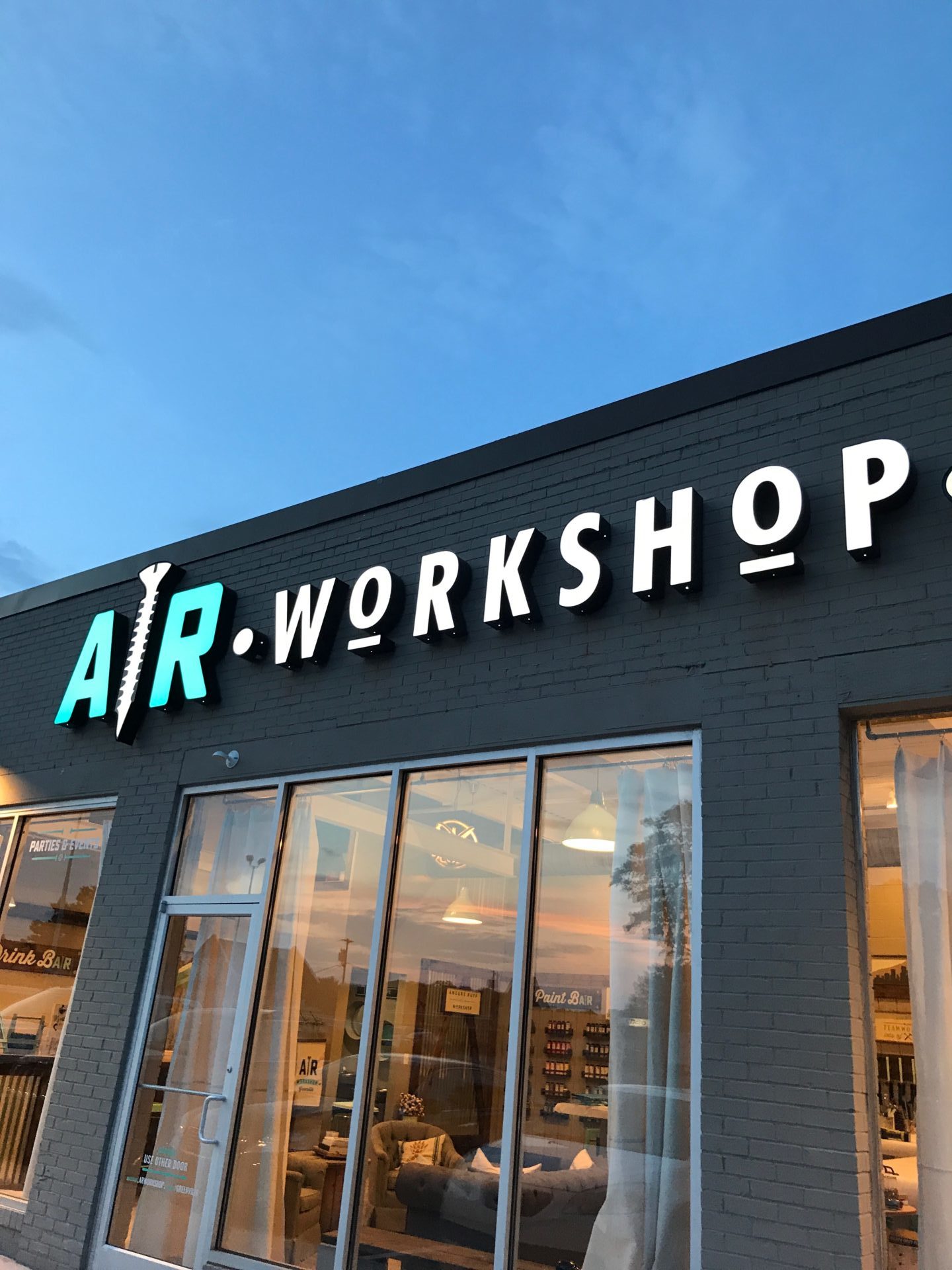 As faithful readers of the Caine blog may know, the marketing team likes to give new things a try. Our last team building activity was craft axe throwing. This time around, instead of throwing axes at wood, we were chiseling, staining, and painting wood instead at Greenville's AR Workshop.
A truly hands-on DIY experience, at AR Workshop, you get to create a custom home decor piece that you build yourself! While many of us had taken a 'wine and paint' class before, we quickly learned there is so much more to AR Workshop than just taking a paintbrush to wood.
The first step was definitely the hardest, but also the most rewarding: designing our pieces. There are hundreds of projects to choose from on the website from plank wood signs to lazy susans to canvas wall hangings and more! Some designs can be personalized with your name or initials, and others can be used as fall or holiday decor.
Then when we arrived to class, there were more decisions to be made – what color stain to use on the wood, what colors to paint our designs, and what other techniques we wanted to use to give our projects a more rustic or distressed style. With all of these options, it is hard to imagine any two pieces turning out exactly the same. Each person's personality really shined through in the final products we went home with.
After all of the brainstorming and paint swatch comparisons were finished, it was time to put on our aprons and get to work. Our stations were prepped with blank wood planks and pre-cut stencils, but the rest was up to us. We sanded, we stained, some of us got a little too excited about using the nail gun, we "de-webbed" our stencils, applied them to the planks, primed, and painted! Don't worry – we had great teachers, Carin and Jamie Burns, guiding us through each step and helping us achieve the look we wanted. And we didn't just work. We definitely had some fun while we were at it. We all brought some nibbles and beverages to enjoy during the experience.
I think what's truly unique about AR Workshop is the level of customization and control you have over your piece, but also that each project looks 100% professional by the end of the class. There's no doubt that you'll want to proudly display your finished piece in your home, and your guests will be surprised and impressed to find out you did it yourself! They also offer such a wide variety of projects that I think you could keep coming back for more and more classes and end up with completely unique and different items at the end.
Don't just take my word for it. Here's what the rest of the marketing team had to say…
"At first, I was intimidated by the power tools, sanders, and nail guns that captured my attention when we walked into the workshop. However, I was equally delighted by the colorful branding, inspirational examples, and fun-filled vibe that is part of the experience. It is a great activity to do with people you work with every day because it enabled a chance to connect on topics other than work — and to see each other's creative gifts come forward in unique ways. I have already been thinking of other projects I could do with different people in my world — it is a fantastic way to spend an evening, and made a weekday so much more fun!" — Kate Dabbs, Director of Marketing and Operations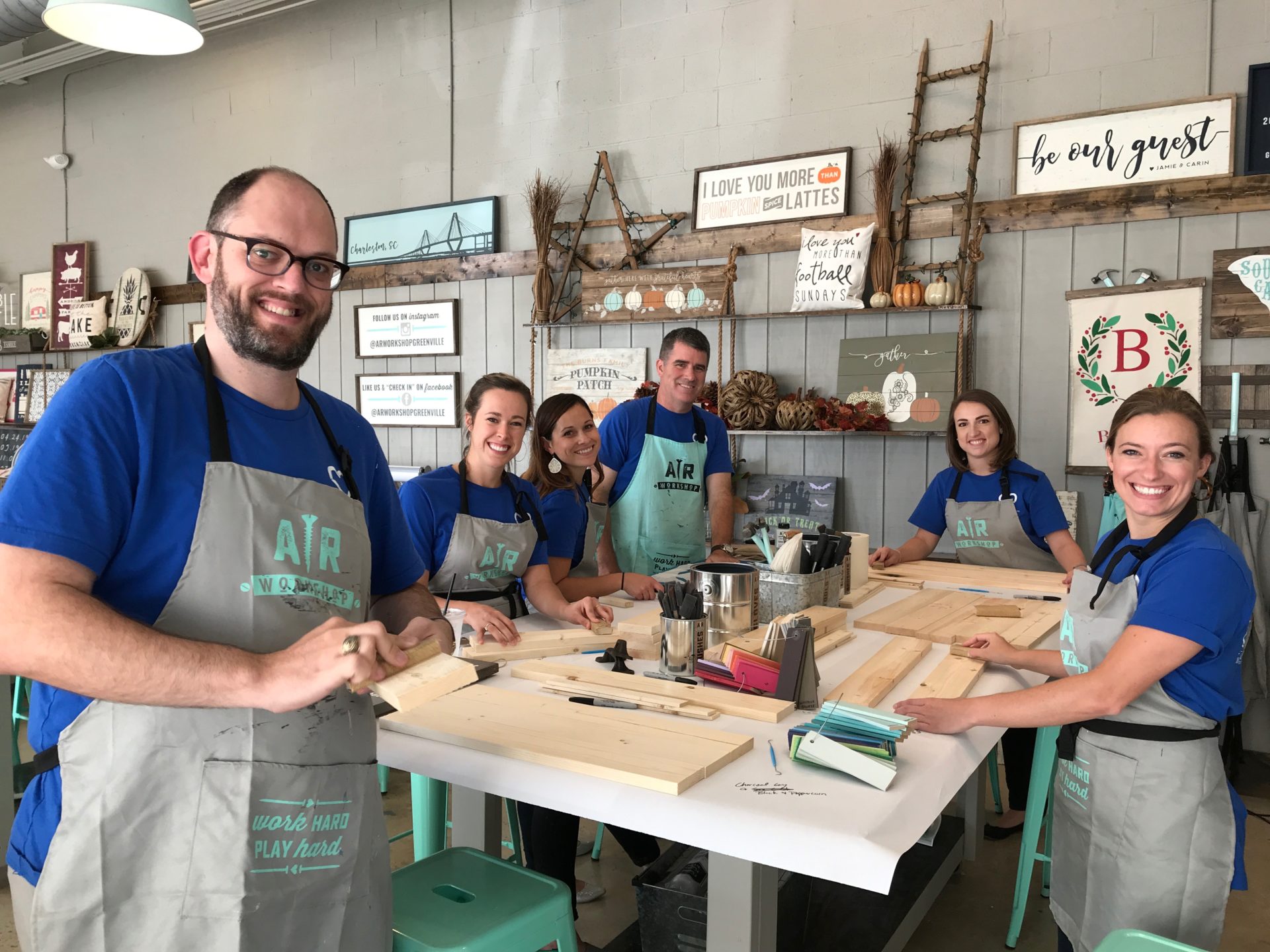 "AR Workshop is the perfect way to unplug. I enjoyed working with my hands and found that pulling off the stencil to reveal the final product was surprisingly gratifying!" — James Prow, Graphic Designer & Project Manager
"The AR Workshop is a must do! If you are looking to try something out of the norm and creative, this is for you! As an artist, it was fun for me to branch from my typical medium and build something. I especially enjoyed getting to use the nail gun! I'm looking forward to enjoying my piece in my home for years to come!" — Lucy Pressly, Marketing Services Specialist
"Since I spend most of my time at work on the computer, it was so rewarding to create something my hands (not to mention the fact that I found the nail gun surprisingly stress relieving)! Jamie and his wife helped us tap into our creative sides while making the process simple and fun – I'll be looking for an excuse to go back with friends soon!" — Virginia Wilson, Marketing Content Specialist
A big thank you goes out to the owner of AR Workshop, Carin Burns, as well as her husband Jamie (one of our CBCaine real estate agents) who invited us to give it a try. If you're looking for some new artwork for your home, a team-building activity, or a thoughtful gift for a friend, click here to learn more and book your own workshop.
About the Author
Marisa Stephens is the Digital Strategist and resident foodie at Coldwell Banker Caine. In her free time, she enjoys traveling, drinking craft beer and spending time with her husband, Louis, and their shorkie, Winston.