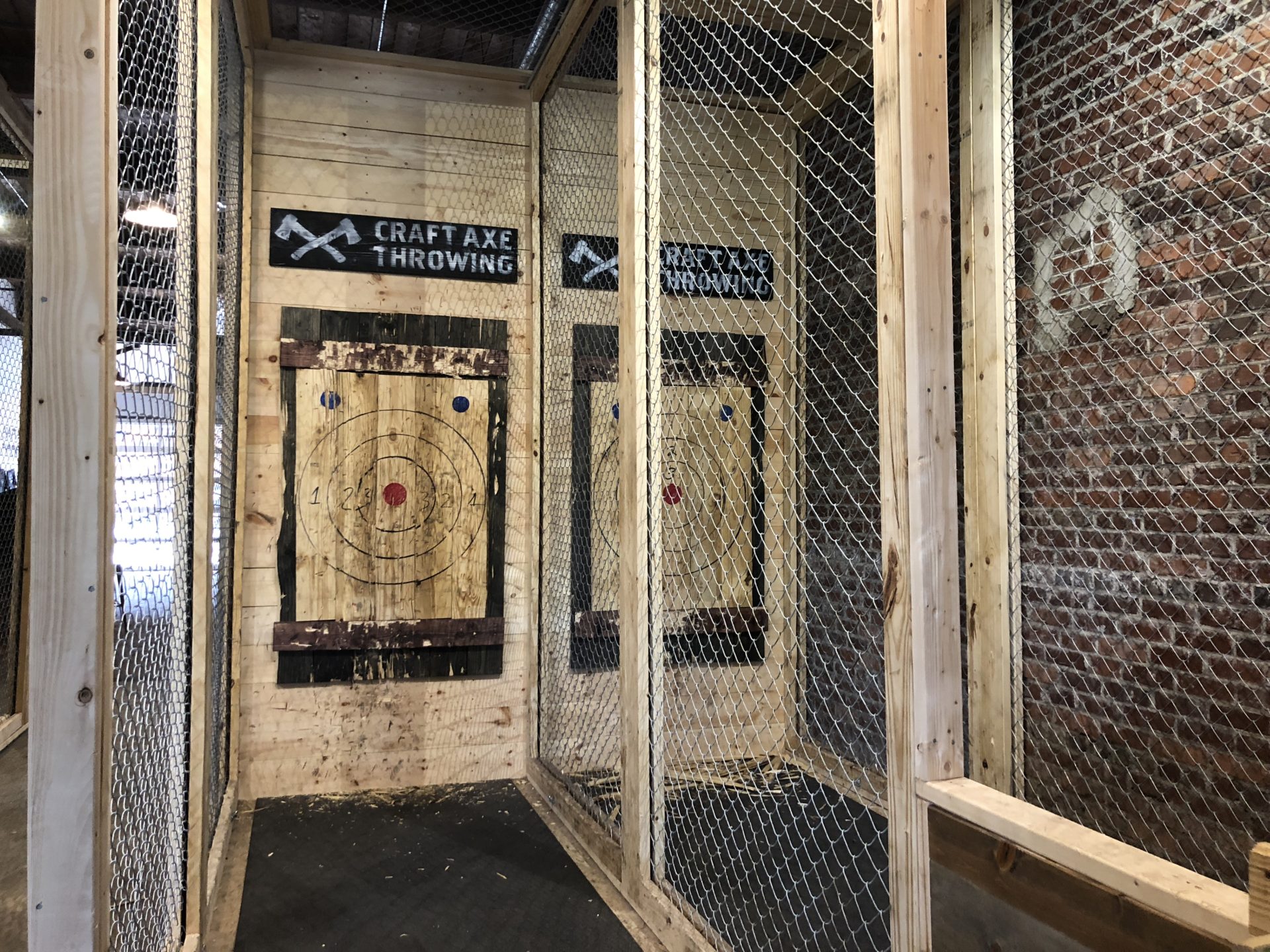 24 Apr

We Got Our Lumberjack on at Craft Axe Throwing
Every so often, Coldwell Banker Caine's marketing team takes a Friday afternoon out of the office to do a little bonding and blow off some steam. Usually, there's lunch involved, an adult beverage for those who choose to indulge, and some type of activity. Previous escapades have been to Dave & Buster's and Frankie's Fun Park… where else can you entertain a group of 20 to 30-somethings? Enter Hampton Station.
Not long ago, most Greenvillians had no idea that this abandoned cotton warehouse by the train tracks existed, but like so many areas along the Swamp Rabbit Trail, it has been reborn. Tenants include Birds Fly South Ale Project (featured on Beer Advocate, Eater.com, and Bon Appetit), White Duck Taco (recently filmed for the Cooking Channel's Cheap Eats), Noble Dog Hotel, Dapper Ink, and Lions Roar Crossfit to name a few. There's a little something for everyone – adults, kids, and furry friends alike.
Just when you thought Hampton Station couldn't get any more interesting, its newest attraction opened its doors, Craft Axe Throwing. Think darts, but a little more rustic and possibly dangerous. After enjoying a couple of tacos, margaritas, and popsicles, we gave it a shot. Here's what the team had to say about it.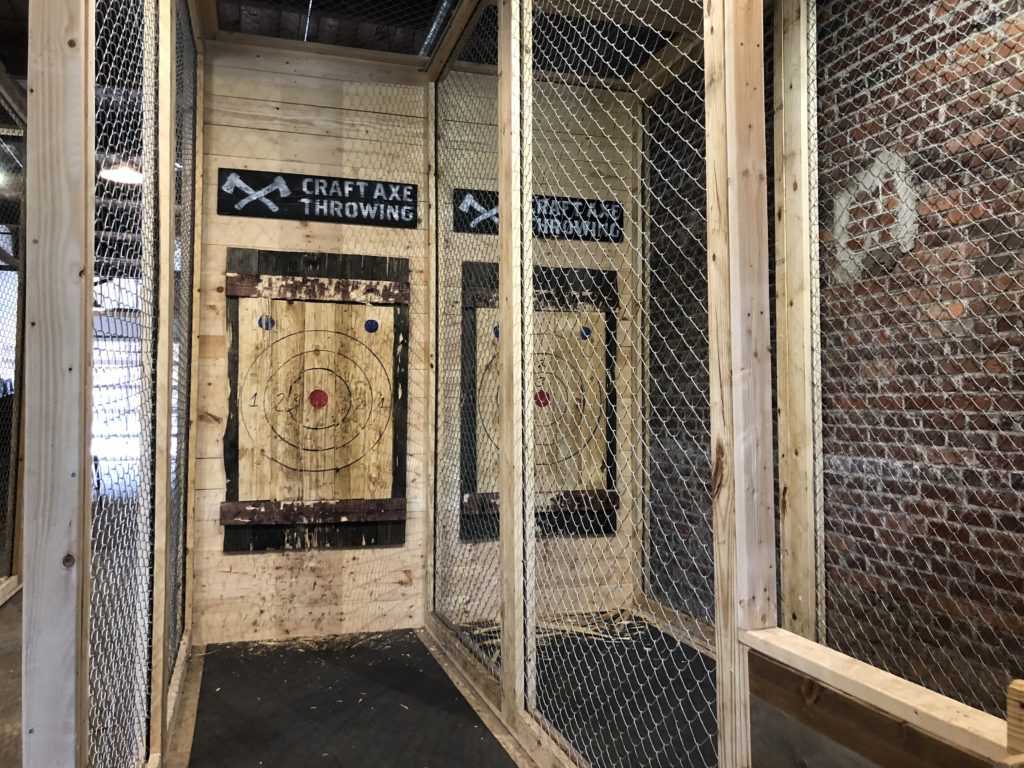 Virginia Wilson: Marketing Content Specialist: "I love Hampton Station because it is a one-stop shop. The whole area provides a welcoming atmosphere to meet friends for food, drinks, or just to hang out. If you're looking for a unique experience, you can even try your hand at throwing axes – who knew?! We learned that successfully hitting the target was much more difficult than expected. By the end of the day, though, our team shared lots of laughs, and overall thoroughly enjoyed our afternoon."
Lucy Pressly, Marketing Services Specialist: "Hampton Station provides the perfect laid-back atmosphere for outside eating, drinking, and fun! Axe throwing was much harder than I thought! Over the hour we played, I only got one axe to stay, but at least it was the bullseye."
Kate Dabbs, Director of Marketing & Operations: "The experience was intriguing because I had nothing to compare it to — Would there be real danger? How hard is it even to throw an axe? Will I look like Katniss from Hunger Games immediately or after a few tries? — Overall, it was as surprisingly delightful as I hoped it would be. I would suggest dressing in something that is easy to move in and perhaps even athleisure. Throwing an axe is as exhilarating as it sounds."
James Prow, Graphic Designer & Project Manager: "I thought axe throwing was a lot of fun, but surprisingly difficult. I'd recommend folks pace themselves so they don't get tired too fast."
Marisa Stephens, Digital Strategist: "As someone who is prone to accidents and has literally cut herself with a butter knife, I obviously had my hesitations about hurling a heavy, sharp object at a target repeatedly. It is a little scary how quickly you become desensitized to what a ridiculous activity you are participating in, and once you embrace it, it is hard to stop. I kept thinking to myself, 'I've got to hit the bullseye just one more time before we leave.' I'm glad we did it, and I have to admit that I felt a little more powerful afterward."
In summary, Craft Axe Throwing surprised us, challenged us, and delighted us. It has a thumbs up from the CBCaine marketing team as a team bonding activity or if you're just looking for a unique experience to enjoy with family and friends. Just don't drink too many Birds Fly South beers or White Duck Taco margaritas before you start.
About the Author
Marisa Stephens is the Digital Strategist and resident foodie at Coldwell Banker Caine. In her free time, she enjoys traveling, drinking craft beer and spending time with her husband, Louis, and their shorkie, Winston.