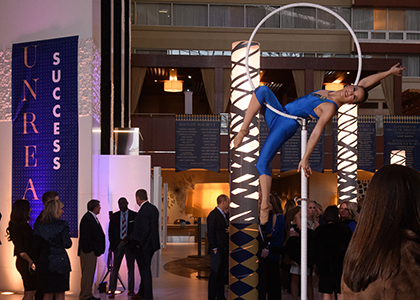 28 Feb

2022 Annual Meeting: Another Year of Unreal Real Estate Performance

Coldwell Banker Caine and Coldwell Banker Commercial Caine recently honored our top producing residential and commercial real estate agents and brokers during our annual awards celebration. Our team draped the Hyatt Regency in Downtown Greenville with the infamous, Coldwell Banker blue as we gathered to celebrate a year of unreal real estate performances.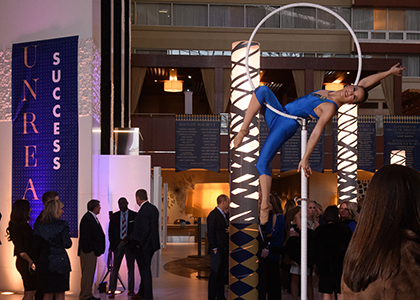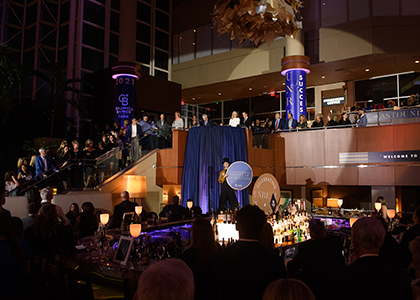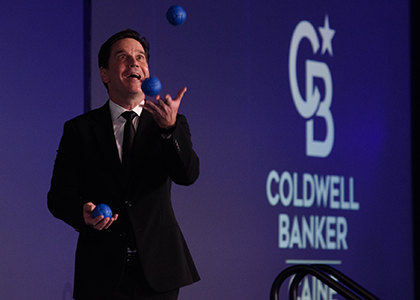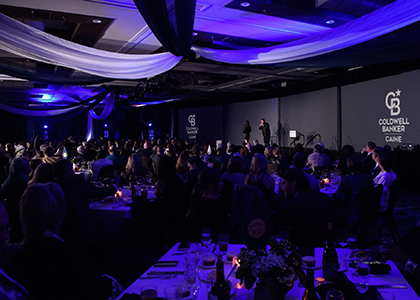 In a night full of mystifying acts, jaw dropping illusions, and Coldwell Banker Caine's all-star top producers, company executives took the stage to recognize over 100 agents and brokers across the Upstate for their achievements locally and internationally within the Coldwell Banker network during the 2021 fiscal year. In between death defying stunts and magic acts performed by some of the nation's top entertainers, agents were awarded for their outstanding achievements, received rankings and awards, and were presented with performance-related Coldwell Banker society designations. The sought-after international accolades, which are based on published sales volume and sales units, were earned by 57% of Caine's agents.
The Caine celebration was not limited to one night, however, as the top performers have been recognized across the Upstate and country through media blitzes and significant airtime on the Today Show.
"There is no doubt that 2021 was another challenging year in real estate," said Caine President and CEO, Stephen Edgerton. "With this being said, our agents consistently rise to the top, overcoming any obstacles that come with today's ever changing, fast paced market."
It takes an unreal night to celebrate the Upstate's top performing agents. Although the celebration is far from over, the Caine family looks forward to another remarkable year in record breaking real estate sales.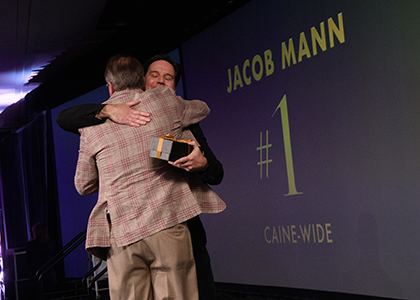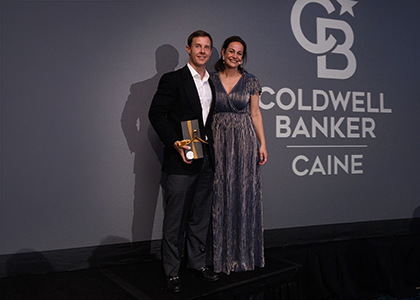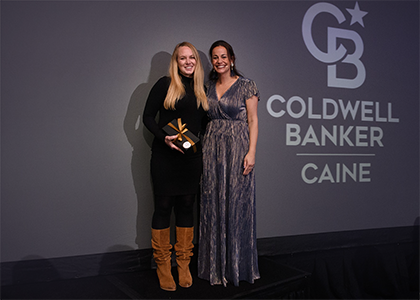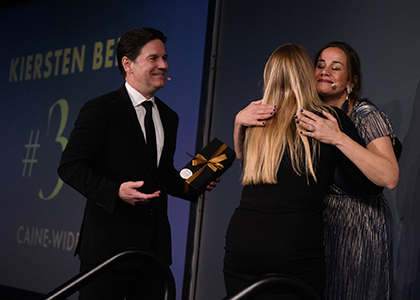 RANKINGS AND RECOGNITION
The company's Top 30 Upstate Residential Sales Agents, based on 2021 sales volume, are:
No. 1 – Jacob Mann
No. 2 – Thomas Cheves
No. 3 – Kiersten Bell
No. 4 – Donna Morrow
No. 5 – Virginia Hayes
No. 6 – Jennifer Simms
No. 7 – Stephanie Burger
No. 8 – Andy Turner
No. 9 – Kim Johnson
No. 10 – Francie Little
No. 11 – Kimber Roberts
No. 12 – Jake Dickens
No. 13 – Jennifer Wilson
No. 14 – Kim Eades
No. 15 – Val Hubber
No. 16 – Rhonda Porter
No. 17 – Helen Hagood
No. 18 – Marshall Jordan
No. 19 – Rhonda Brooks
No. 20 – David Seaver
No. 21 – Alison Pitts
No. 22 – Tracey Cappio
No. 23 – Anna Tatum Swing
No. 24 – Heather Young
No. 25 – Jordan Corbett
No. 26 – Hilary Hurst
No. 27 – Steve Babb
No. 28 – Shelbie Dunn
No. 29 – Linda Moore
No. 30 – Rosana Quintero
The company also announced its Top Performing Team for 2021: The Hurry Home Team which includes Brian Hurry, Holly Brackins, Jason Brackins, Jessica McPhail, and Keri Crown.
Additional special awards were also given. Donna Morrow and AC Rodwell received Caine's Outstanding Performance award, Elizabeth Foster Clarke was named Rookie of the Year, Linda Moore and Gene DuBois won the year's Rising Star award, Brenda Brooks and Stephanie Burger received the Exceptional Service Award, Marshall Jordan won the Team Spirit award, David Seaver was awarded the Leadership/ Caine Halter Award, the Frank Halter Award was given to Francie Little, Reed Gray was given the Social Media Award, Julie Fowler was given the Caine Engagement Award, James Prow was awarded the Lorry Houston Burkins employee award and Melissa Hurst was given the Caine Thrive Award.
Caine's New Homes Division also recognized David Hurst with the Outstanding Performance award.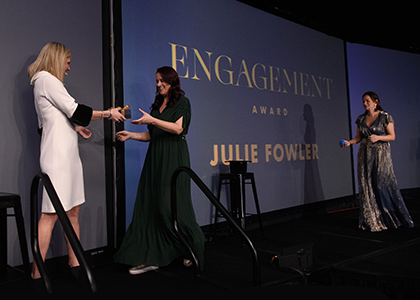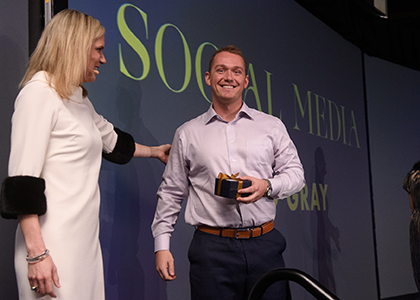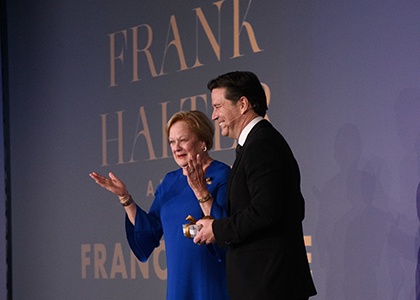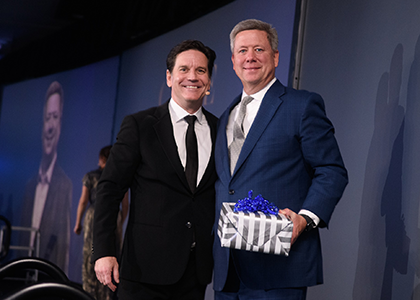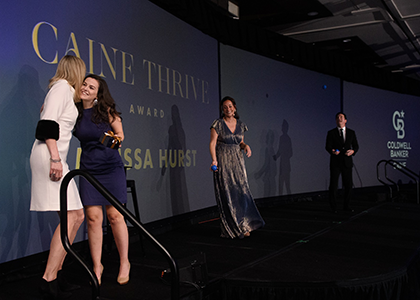 The Coldwell Banker Commercial Caine team was also celebrated for their 2021 success.
Top commercial brokers were:
No. 1 – Harry Croxton
No. 2 – Tim Satterfield
No. 3 – Nick Sardone
Harry Croxton qualified for the Commercial Circle of Distinction Gold Level, which is earned by commercial brokers who produce more than $500,000 in closed gross commission income.
Nick Sardone and Tim Satterfield qualified for the Commercial Circle of Distinction Bronze Level, which is earned by commercial brokers who produce more than $200,000 in closed gross commission income.
SOCIETY HONORS
Agents were also recognized for their performance relative to their peers within the global Coldwell Banker network. Their performance earned more than half of Caine's agents a place in several prestigious societies.
Jacob Mann and David Hurst qualified for the International Society of Excellence, which is earned by and awarded to less than 1% of Coldwell Banker agents worldwide.
The following agents qualified for Coldwell Banker's International President's Premier, earned by fewer than 1% of agents worldwide:
Thomas Cheves
Kiersten Bell
Donna Morrow
Ronda Smith
Jimmy Fuqua
The following agents qualified for Coldwell Banker's International President's Elite, earned by fewer than 3% of agents worldwide:
Virginia Hayes
Jennifer Simms
Stephanie Burger
Andy Turner
Kim Johnson
Francie Little
Kimber Roberts
Jake Dickens
Rhonda Porter
Melissa Jones
The following agents were named to the International President's Circle, earned by fewer than 7% of Coldwell Banker agents worldwide:
Jennifer Wilson
Kim Eades
Val Hubber
Helen Hagood
Marshall Jordan
Brenda Brooks
David Seaver
Alison Pitts
Tracey Cappio
Anna Tatum Swing
Heather Young
Jordan Corbett
Hilary Hurst
Steve Babb
Shelbie Dunn
Linda Moore
Rosana Quintero
Judy McCravy
Susan Gallion
Annette Starnes
Berry Gower
Jamie Allen
Gene DuBois
Suzanne Cook
Holly West
Jason Brackins
Tracy Kiker
Chelsi McCoy
Norell Mitchell Grissett
Cathy Pinion
Teresa Jones
The following agents were named to the International Diamond Society, earned by fewer than 12% of Coldwell Banker agents worldwide:
Meredith Tye
Andrew Little
Bob Schmidt
Victor Lester
Lindsay Blanton
Jane McCutcheon
Michelle Roberts
Linda Wood
AC Rodwell
Alicia Waynick
Julie Fowler
Greg Norris
Jackson Bailey
Felicia Griggs
Julia Ross
Steve Mussman
Neil Gobbel
Hunter Hurst
Tricia Bradbury
Ashley Maddox
The following agents were named to Coldwell Banker's International Sterling Society, awarded to the top 18% of agents worldwide:
Misty Hardaway
Lori Hope
Susan Bridgers
Shelly DeVreese
Tracy James
Sherry Tate
Pam Hall
Megan Coates
Trysti Lowe
Sarah Gilley
Nick Zappitelli
Beth Beach
Steven Merck
Karla Alvarez
Kathy Harris
Susan Murphree
Charlene Panek
Mary Ashleigh Browning
Chris Byrd
Laine Tucker
The Bronze Society recognizes agents who achieve $100,000 in adjusted gross commission income or 15 total sales.
Stephanie Batten
April Garrison
Elizabeth Cox
Faith Ross
Virginia Abrams
Angela Reid
Elizabeth Foster Clarke
Mary Bishop
Caroline Croft
Mary Jane Freeman
Chase Poston
Kristi Moon
Wes Boyd
Lisa Humphreys
Jeannette Schell
Ben Stoudenmire
Clare Carpenter
Lori Bayne
Sharon Tootell
Stefany Gutierrez
Cindy Bass Searfoss
Danielle Watkins
Brian Langley