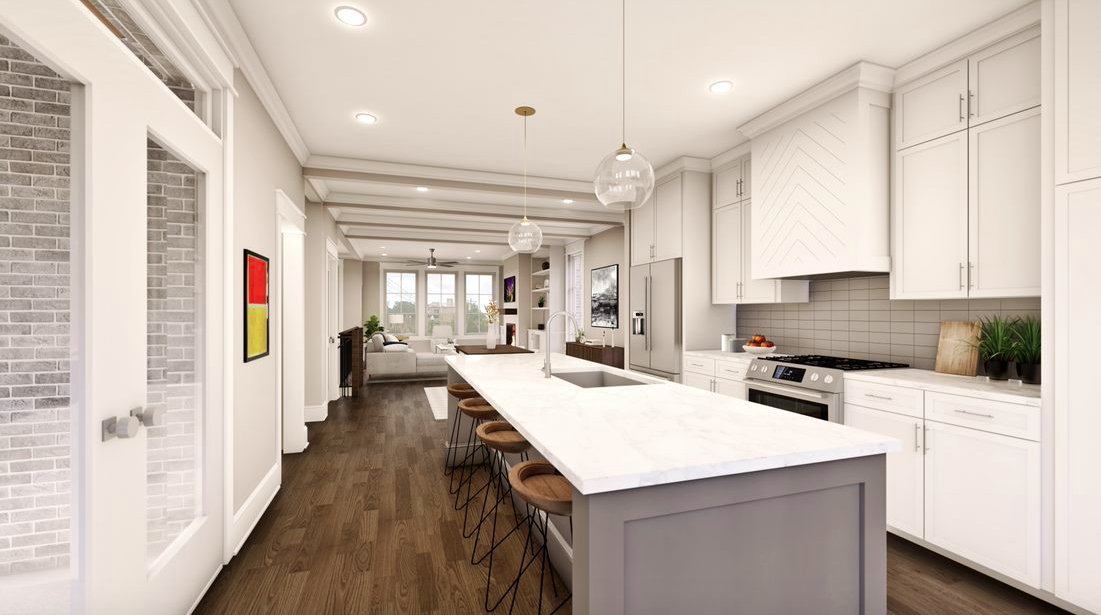 11 Nov

Thoughtful Urban Living at Bradshaw Commons

Bradshaw Commons is an intimate community featuring six luxury townhomes in the heart of downtown Greenville, SC. Lead Architect, Jared Moore, envisioned and designed Bradshaw Commons to add architectural value to the city while creating a legacy property with a timeless feel – in one of Greenville's most desirable locations. Read on to learn more about how this vision came to life through the design process and how you can be one of the first to call Bradshaw Commons home.
Unmatched Design and Conveinence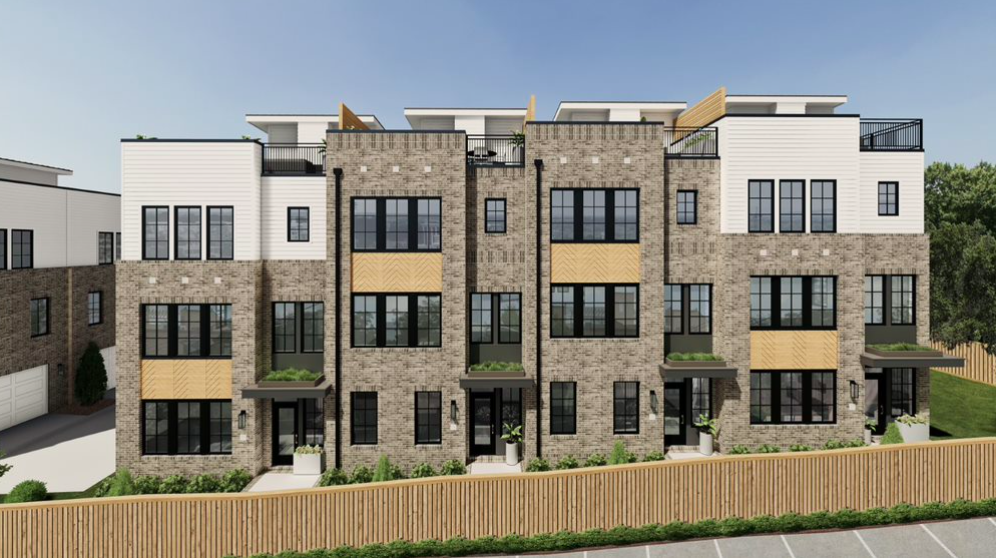 Inspired by nearby Falls Park and the existing tapestry of downtown, Bradshaw Commons' townhome exteriors utilize neutral, earthy tones to complement the surrounding area, while providing a high-end townhome style that's unmatched in downtown Greenville today.
Moore has brought together materials, massing, and proportions to create a design that will blend in with the urban architecture of downtown while also establishing its own unique, high-design style and providing 3 bedrooms, 3.5 baths.
Using brick on the first and second levels gives a heavier base, while the top level, the neighboring level to the rooftop terrace, almost disappears into the sky with a light gray color and siding. On the interior townhome units, brick is used for the entire height, giving them their own individual feel and making them visually distinct from the exterior units. On each unit design, a herringbone wood siding incorporates a visually appealing transition between levels and adds warmth and character to the architecture.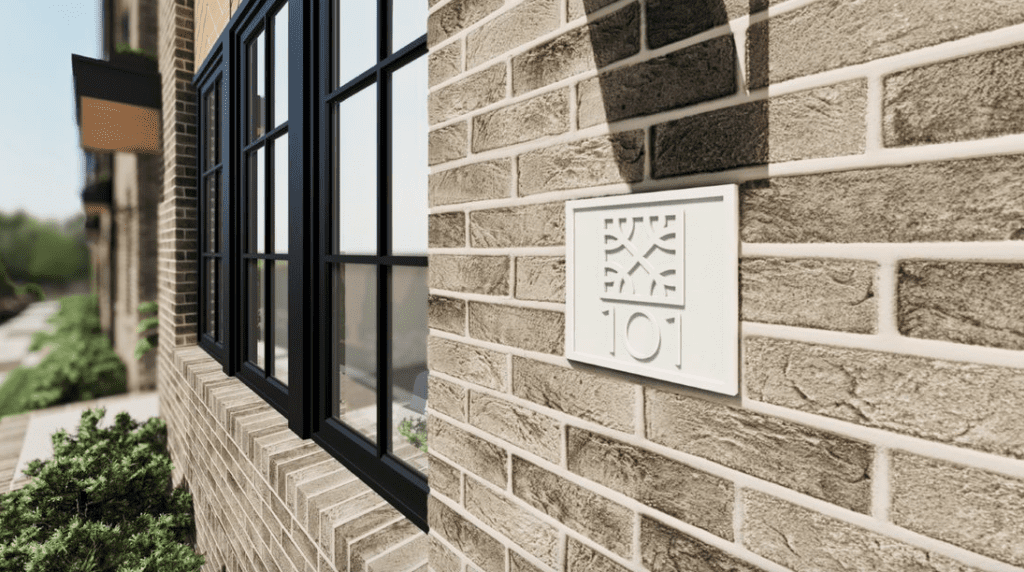 Just as Moore believes in mixing materials, he firmly believes that branding and architecture go hand-in-hand. Both are about storytelling; one tells the story of place, and one tells the story of experience. A tangible example of this can be seen in the concrete tiles that will be set into the brick of each townhome, displaying the Bradshaw logo and address number. Moore and his team have paid attention to every detail of these new townhomes, ensuring that homeowners and visitors alike consistently experience the best of Bradshaw Commons.
Floor Plans and Design Details
Bradshaw Commons offers three floorplans, all thoughtfully designed to enhance the experience of urban living and to maximize downtown views throughout the space.
At the ground level, each townhome has a two-car garage with additional storage that can be used for a golf cart, bicycles, golf bags, kayaks and more. The nearby flex space with a full bath allows for a home office, additional bedroom or workout room. From the ground level, you'll also have your own private elevator, a standard in each townhome, that provides access to each floor, including the rooftop terrace.
The foyer is one of the most important spaces in a home. It's how you say hello to your home with each visit and serves as a first impression as guests enter your home. At Bradshaw Commons, your two-story foyer will 'wow', with a 19-ft ceiling and exceptional natural light.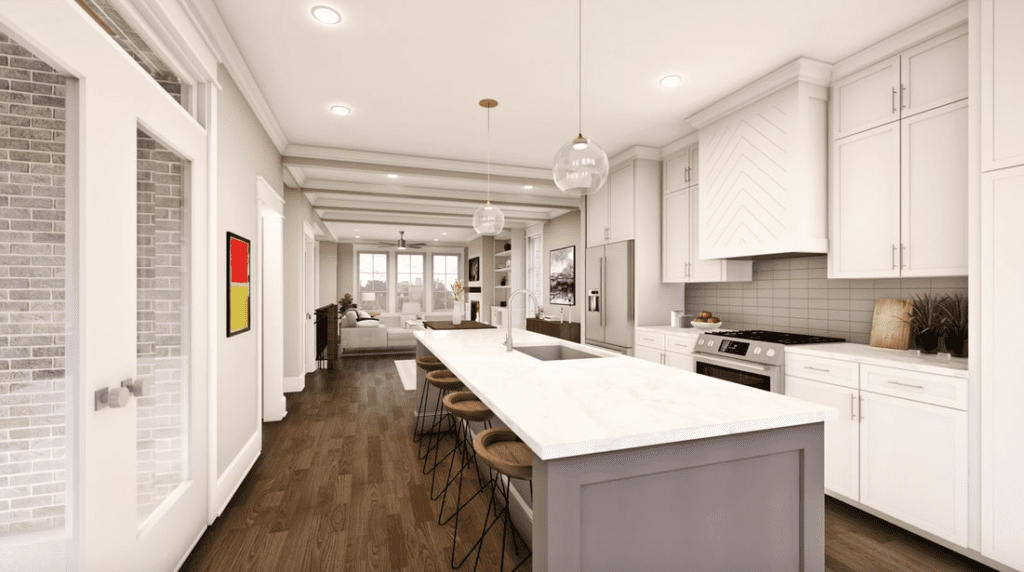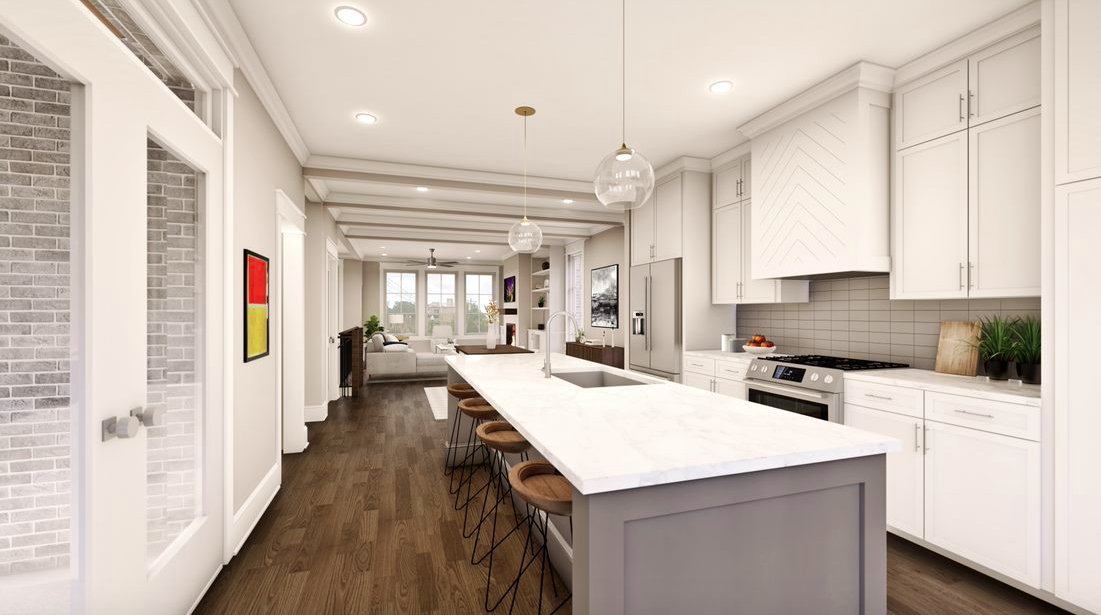 Just atop the stairs on the second level, you'll find an open concept living space that's complete with a fireplace and spills into the kitchen and dining area. The large island offers seating for four and an ideal entertainment area.
On the third level is your spacious owner's suite. This private bedroom offers ample living space and a large walk-in closet. Just off the owner's suite is an enviable owner's suite bath, complete with a large vanity, dual sinks, a private water closet as well as a free-standing tub and oversized shower with double showerheads and a glass enclosure. The third level also includes a laundry room for added convenience and a secondary bedroom and bath.
Just above the third level, Bradshaw Commons townhomes are complete with a highly sought-after rooftop terrace, offering space for lounge seating and an outdoor dining area. Optional upgrades include a fireplace, grilling area, and outdoor kitchen.
Throughout each townhome, you'll find built-in shelving in hallways and staircases for additional storage or decor opportunities. Design details have been thoughtfully selected, and each homeowner will have the opportunity to work with interior designer, Sandra Stone, to further select finishes and options to personalize their home.
At Bradshaw Commons, downtown is truly at your doorstep. Are you ready to make the move downtown and experience the convenience and energy of downtown living?
To learn more, get in touch with our Dedicated Sales Agent, Andy Turner, at 864.901.0653 or [email protected].
Bradshaw Commons is located at 12 Bradshaw Street, Greenville, SC 29601 and offers new for-sale townhomes from the $800s+ Find directions and additional information at www.bradshawcommons.com.