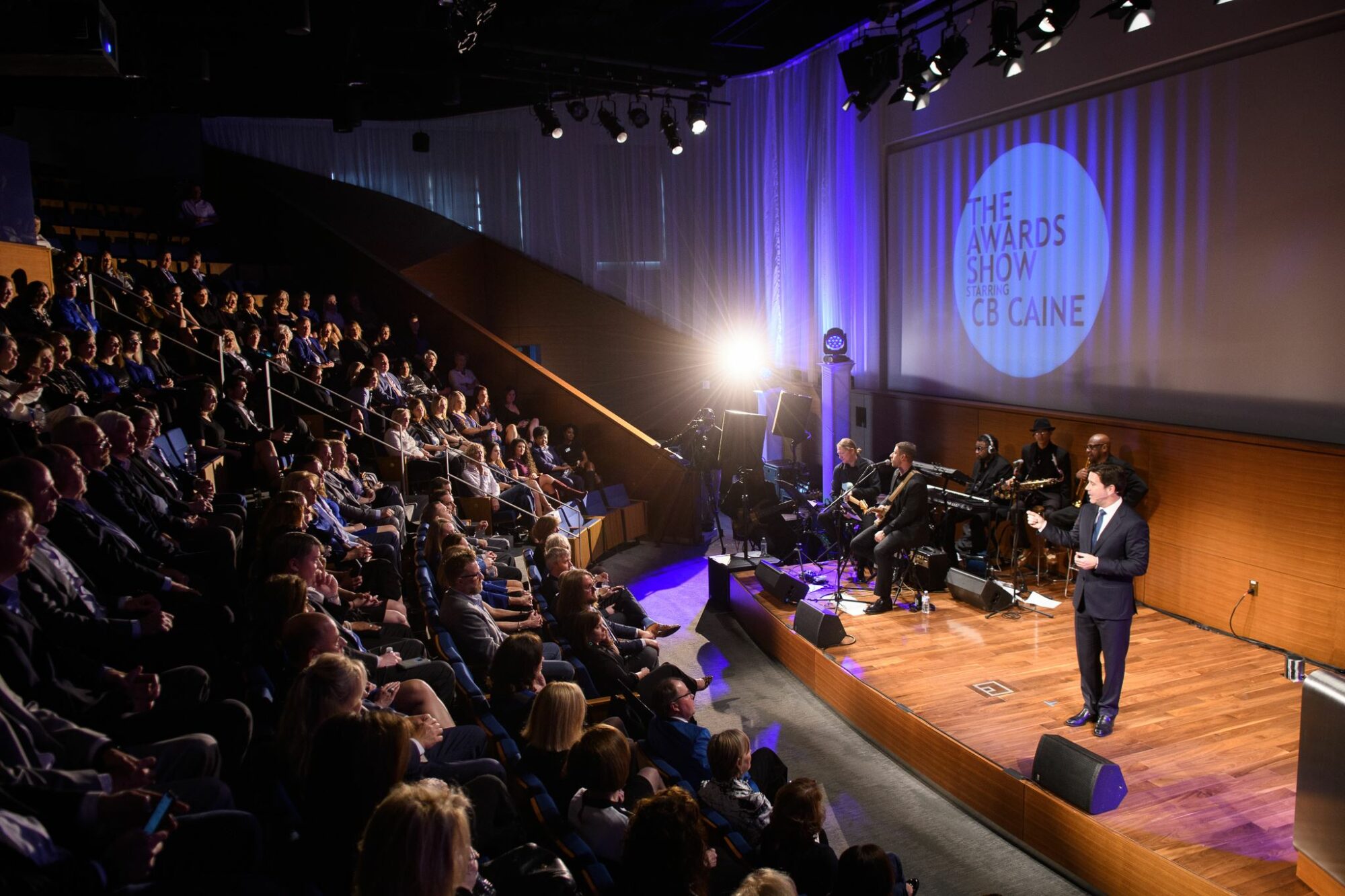 05 Mar

The Awards Show starring CB Caine: A Recap

Each year the Caine family comes together to celebrate the results of the previous year at our Annual Awards Show. This is where we announce our top 30 residential producers, top 3 commercial producers, top performing team, special award recipients, and the winner of our Above & Beyond sales contest. But that's not all! There are always plenty of surprises in store.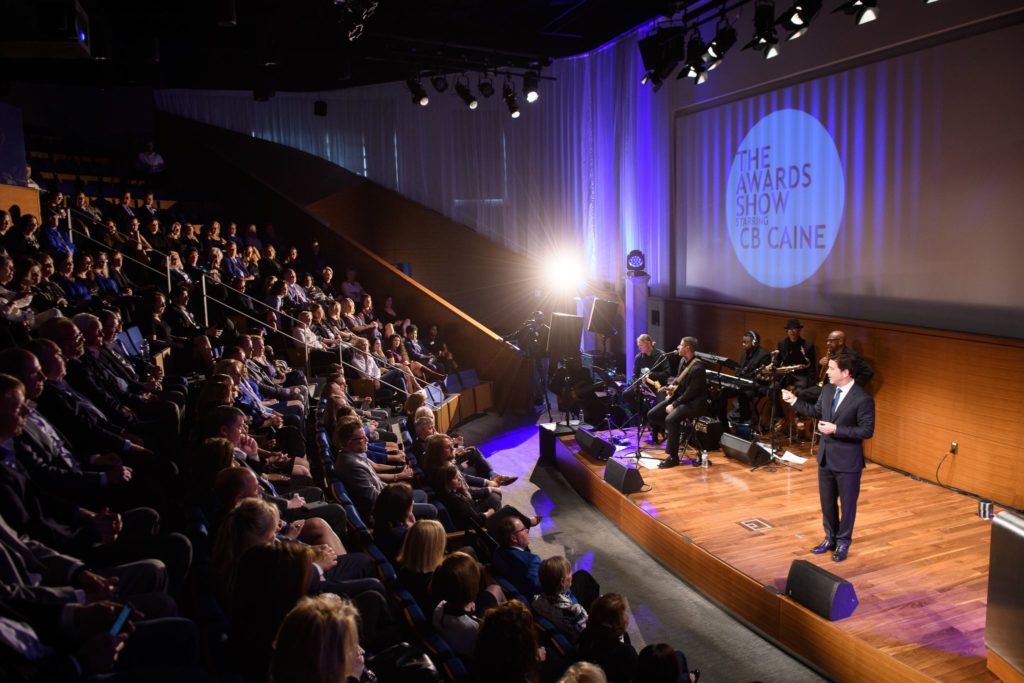 Before the show, agents placed their Above & Beyond contest entries into a Tiffany Co. box for our big drawing. Each agent receives entries based on production and additional incentives throughout the year. The winner gets to go on an all expenses paid trip. This year, there were 3,496 entries in the contest, and the winner will go to the Four Seasons in Costa Rica.
We took inspiration from late night TV for the show's theme. Once inside the auditorium, the program began in true "on air" fashion with an introductory video announcing our guests – Paul Ollinger (comedian), Liz Gehringer (COO of Coldwell Banker), Closing Day (on-stage band) and Sister Money & the Paychecks (surprise musical guest) – as well as a live video feed of the audience and monologue from our President and CEO, Stephen Edgerton.
Then we took a moment to review 2018 by the numbers. We counted everything from our total sales volume to how many steps we took (#ThriveCaine), to how many cans of La Croix we consumed – take a look below.
Comedian Paul Ollinger made us laugh at ourselves, and we recognized our 77 members of Coldwell Banker International societies.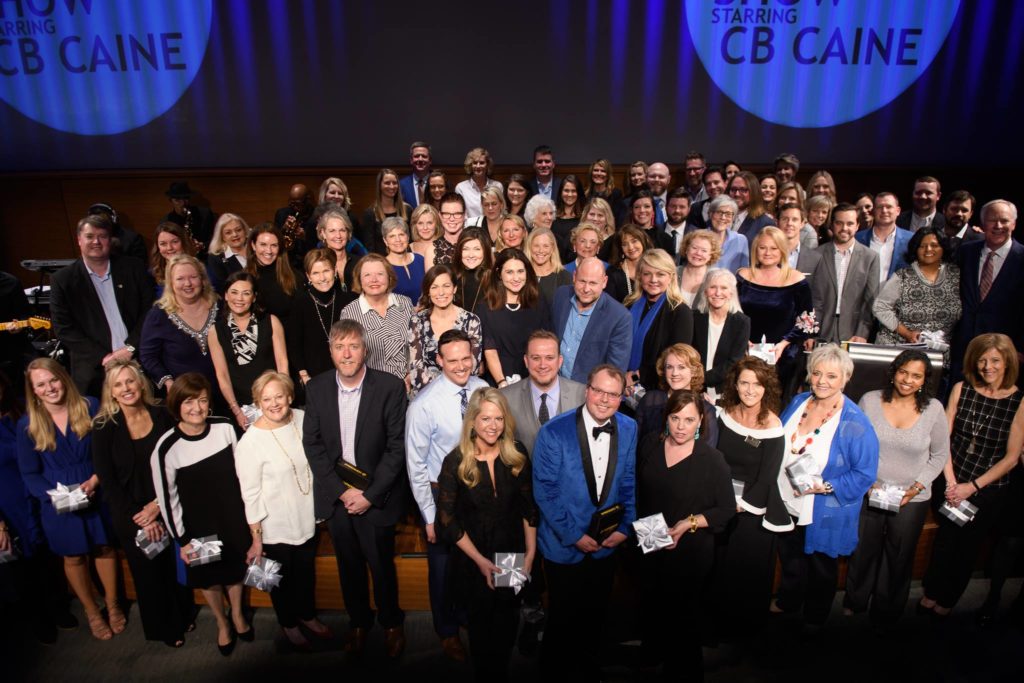 One reason our Coldwell Banker Caine real estate professionals are so successful is because of the amazing support system behind them, including our CB Caine Blue Crew. Hear what our agents had to say about our team in the video below.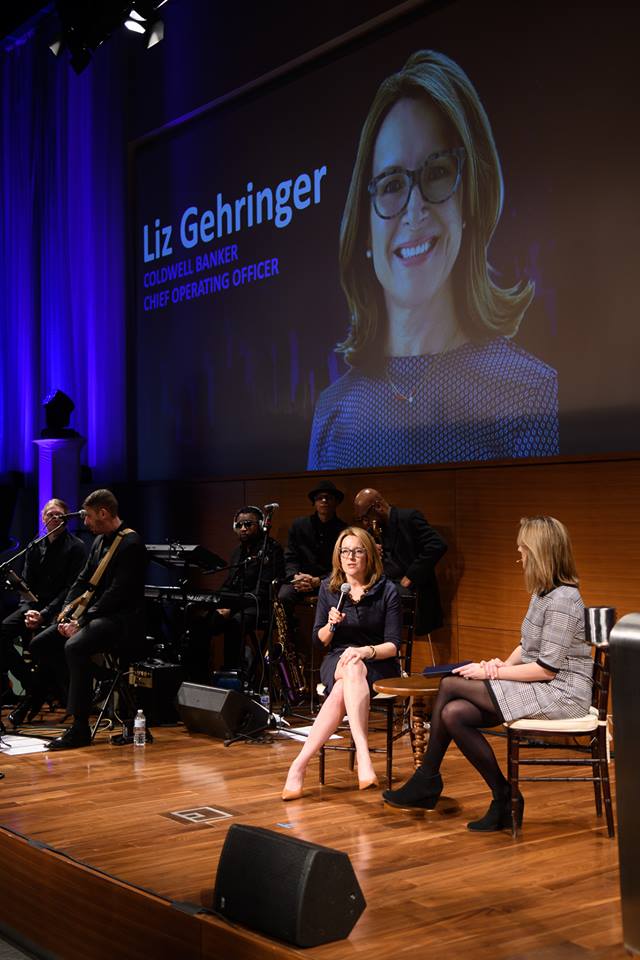 Next, Liz Gehringer, COO of Coldwell Banker, came to the stage for a Q&A with our EVP of Sales and Broker-In-Charge, Amanda Jones. We were honored for Liz to join us and discuss her journey to COO, Coldwell Banker's future, and how Caine compares to the hundreds of CB companies worldwide (the verdict: she was very impressed by CB Caine).
Then, our surprise musical guest, Sister Money & The Paychecks took to the stage. To the Caine family's surprise, this band consisted of Sheila Hensley, Stacie Burnett, and Hannah Morton who work in our accounting department! These three ladies are all talented singers and performed an appropriate tune, "Taking Care of Business."
We announced the winner of our fourth quarter Thrive Caine Fitbit contest. From October 1 through December 31, Lynn West took 2,932,805 steps (that's an average of 31,878 steps per day) making her the winner of an overnight stay to The Omni Grove Park Inn in Asheville, NC. The next Thrive Caine contest is already up and running. The Caine family member with the most steps in 2019 will win a trip to The Old Edwards Inn & Spa in Highlands, NC.
Now, onto the awards! David Sigmon was named our #1 producing commercial broker, the CMO Group was named our #1 team, and Jacob Mann was named our #1 producing residential agent. Click here to see the full list of awards.
Last but not least was the moment we were all waiting for – the Above & Beyond drawing. Throughout the show, four names were chosen as our finalists, and to determine the winner, we played a game of egg roulette. If you aren't familiar with egg roulette, all of the eggs but one are hard boiled. The contestants crack the eggs on their head to see which one is raw, and in this case, the recipient of the raw egg would win the trip to Costa Rica! However, at CB Caine, we partner with our agents to help them succeed so we made our own twist on this classic "Tonight Show" game. Instead of the finalists cracking the egg on their own head, each chose a member of the Caine leadership team to take the egg for them! When all was said and done, the raw egg landed on Stephen Edgerton, our President & CEO, at the hand of Greg Norris, who will be taking a trip to the Four Seasons in Costa Rica.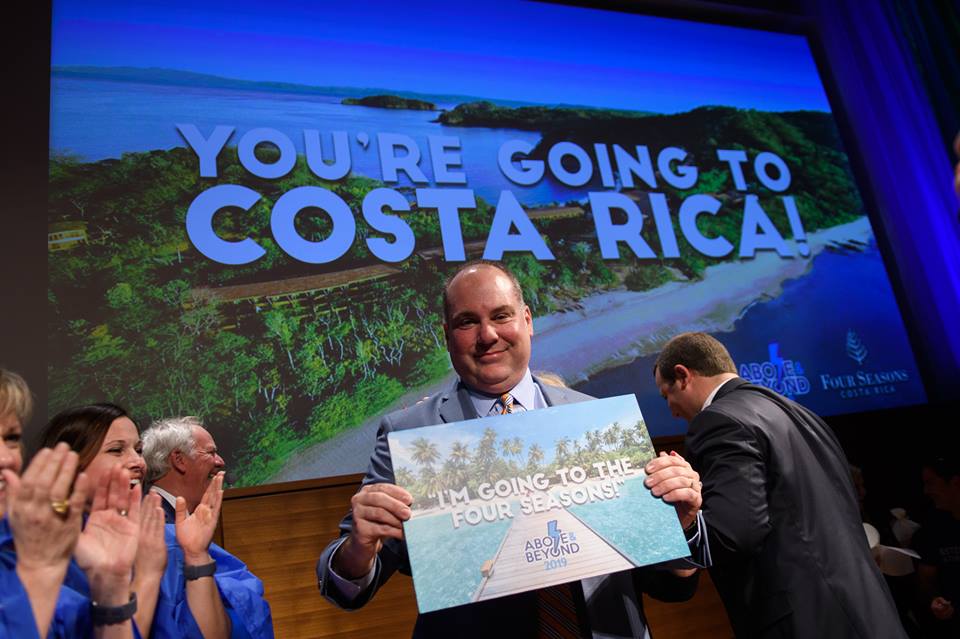 After the "Awards Show starring CB Caine" concluded, "The Late Show" reception began, where we celebrated an evening of entertainment and surprises. The only question that remains is, how will we top ourselves next year?
Take a look at the video below to take in the entire experience.