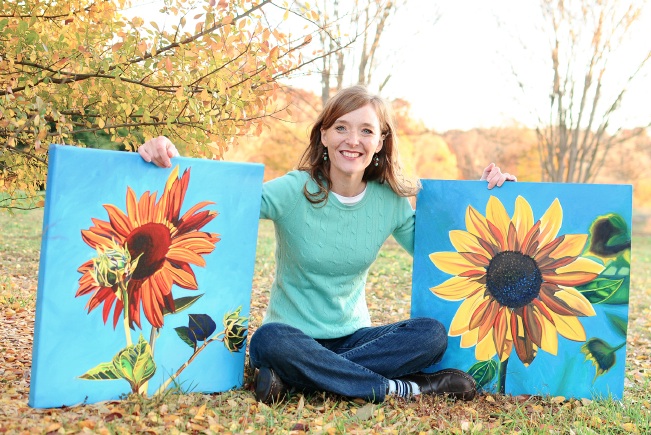 15 Jan

Meet the Artist: Marie Scott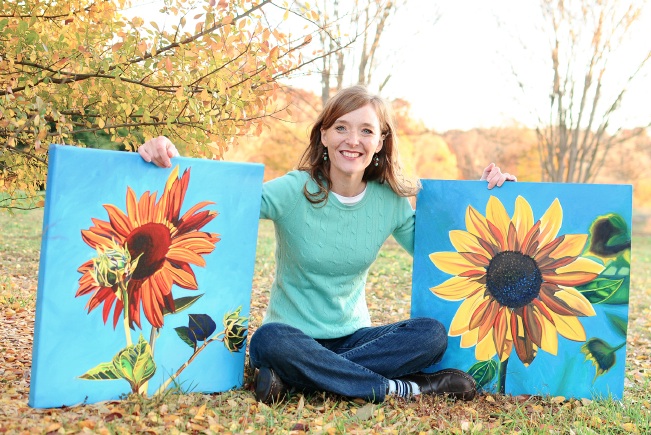 Q: How long have you been painting?
I have been painting since first grade. I took art all the way through 12th grade, but when I went to college. For some reason I didn't even consider a major in art until I had a roommate who was a graphic design major. I watched her work on projects our entire freshman year with envy, until one day it dawned on me that I too could also major in graphic design and have the fun she was having. So I did!
I retired from my career as a graphic designer in 2001 and have been painting full force since 2003 — just a few months before our son was born. I knew if I didn't crack down and get to work before he was born, that it would be another 20 years before I had the chance to commit to becoming an artist. So my career and his life began just about the same time. I did my first art show when he was 6 weeks old. (That was crazy. I do not recommend this.)
Q: What got you interested in art?
As a child in school, art always came very naturally to me. I was usually the last kid picked for any team in PE, so art class was a safe refuge for me in both elementary and middle school. Then in high school, I had an excellent art teacher who instilled my life-long love of creating art. She also helped to lay an excellent foundation which allowed me to succeed in my college-level art classes.
Q: Where is your favorite place to paint?
I only paint in my studio. In order for me to be creative and focused on my work, I need to be in the midst of a clutter-free and beautiful environment. I also need lots of windows and natural light. The perfect day to paint in my studio is when it is warm enough to have the windows open and I can hear the birds talking to each other while the sun shines in my windows.
 Q: How would you describe your style of painting?
My paintings are contemporary, vibrant representations of simple objects or scenes. The primary focus is on color and beauty. I am told they make people feel happy. I find they resonate strongly with children, which I take as a huge compliment. I think kids like the whimsy and intensity of color. They have an almost storybook feel, as I try to make them into a better version of the scene or object I have captured. I would like to think that my paintings are snapshots of a more perfect world which is still yet to come.
Q: What was one of the first things you painted? What makes it memorable?
I painted a "portrait" of my in-law's house for a Christmas gift for them in 1994. As I was working on creating their present, I kept thinking to myself "THIS is what I was created to do!" But not long after that I began working full-time as a graphic designer for many years, which consumed all of my creative energy. During that season of life, I always dreamed about the time when I would be able to quit my day job and pursue a career as a fine artist. I was lucky enough to reach this place in life back in 2001, and for better or for worse have been living the life of an artist ever since.
Q: Where do you gather most of the inspiration for your works?
All of the paintings I create (with the exception of a few random commissions) are from photos I take. I love to paint flowers, so if we are headed out for a day of fun I will often bring my camera. I am most often inspired by flowers that have the sun shining on them. I find the contrasts between light and dark are what can give a piece the feeling of warmth and sunshine that I am known for in my work. I often paint the flowers that are growing in my yard since I can wait for the sun to be in just the right place to get an even more inspiring photo.
Q: What, in your opinion, is the hardest step in creating a masterpiece?
This is an excellent question. There are so very many hard steps! I think the process of creating a masterpiece begins with an excellent composition. My painting process then becomes very similar to that of putting a jigsaw puzzle together. With my floral paintings, I paint each little shape and piece, one at a time, as if working in a coloring book. The hardest part is early on when I am still figuring out where all the pieces go. Once it gets to the point where I can see the picture coming into focus, the fun begins. I think the tipping point in a painting's success is knowing when to stop and when to keep refining.
 When I'm nearing what seems like the end of a painting, I try and walk away for a day or two to come back with fresh eyes. Sometimes "almost done" ends up becoming an entire week of more work, but sometimes it is just five more minutes. I find it much more difficult to stop early, but I think some of my big successes have happened when I didn't try so hard.
To learn more about Marie Scott visit her websites:
Join us for the Artist's Opening Reception Thursday, February 6 from 6:00 -8:00 p.m. at 428 S. Main St, Greenville. Marie's art will be on display at the Main Street Real Estate Gallery from January 1-March 31.