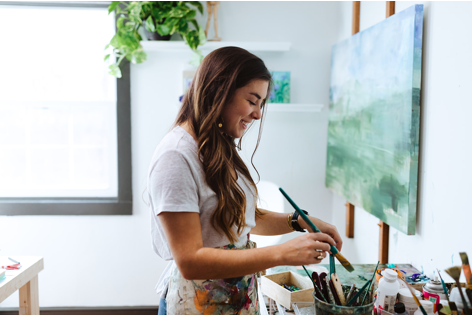 09 Jul

Meet The Artist: Laddie Neil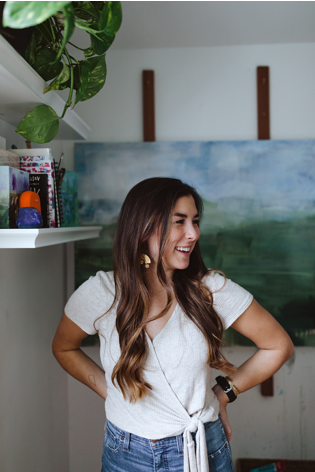 Each quarter, we display work from a local artist at our Greenville Main Street Real Estate Gallery. Thanks to our Caine Cares initiative, our quarterly artist receptions support artists in the community while giving people a chance to gather and admire beautiful artwork. This quarter, we will be sharing the work of Upstate artist, Laddie Neil. Please stop by our artist reception Thursday, July 25, from 6-8 pm to meet Laddie and enjoy her artwork.
A graduate of Clemson University, Laddie received her Bachelor of Fine Arts with a concentration in painting in 2016. Since then, she has hit the ground running as a local artist, painting at the Village of West Greenville's Railside Studios. Laddie describes her work as "vibrant harmony" – finding beauty in opposition and natural colors. Laddie uses different forms of paint on canvas to portray her inspiration, much of which is drawn from the outdoors.
To get to know Laddie and her work better, we asked her a few questions.
    What piqued your interest in art?
For as long as I can remember I have loved being creative. Art was always my favorite subject in school and if there was an opportunity to use creativity, I went for it. Sports and academics were never really my strong suit, but when it came to art I always felt comfortable and confident whenever I was creating! In college, when I majored in art, I began to really hone in on my skills and take my craft seriously.
    How would you describe your style of art?
I paint loose abstract landscape paintings. I am influenced heavily by impressionist artists (Monet, Cézanne, Pissarro, specifically) and I think you can see that in my work.
    Where do you gather most of the inspiration for your work?
Definitely the outdoors. I love painting from big open fields, vast mountain ranges, and airy, loose skies. I enjoy studying color theory within these spaces, understanding why certain colors compliment others and thinking about why I am drawn to them initially (the feeling or memory they might provoke).
    What's your favorite piece of your own work?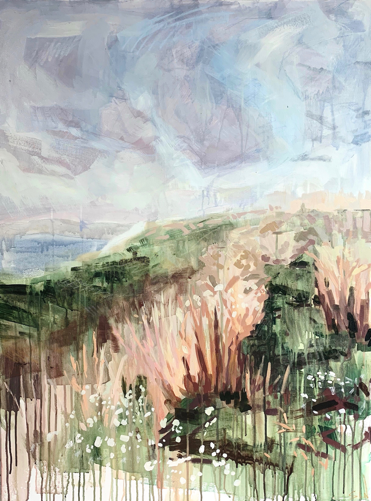 My favorite painting is one I will never part with! It is a painting I did my senior year of college titled "Broken Vessels". This painting is a layered panoramic landscape with broken shapes overlaying it. It speaks on how throughout life everything happens for a greater purpose and design that we often don't even know about. It helps me remember through the hard days that it all fits together for a greater purpose.
    What's an interesting fact about you or your work?
One fact about me/my work is that I really didn't want to be a studio artist until the end of college! Throughout school, I was planning to use my degree to teach. However, when I studied abroad in Cortona, Italy my junior year, my passion for painting really ignited. I felt a lot of freedom to express myself and started to figure out how I liked to paint. Since then I have been pretty dead set on painting for the rest of my days!
    What famous artist do you most admire?
A present-day artist I constantly am looking at is Christina Baker. I have admired her since college. She is really successful in making abstract shapes and designs into glorious, peaceful landscapes! I wish I could jump into one!
We look forward to seeing you at our Main Street Real Estate Gallery at 428 S Main St, on Thursday, July 25th from 6-8pm. Invite a few friends and join us for food, beverages, and viewing of Laddie's work.