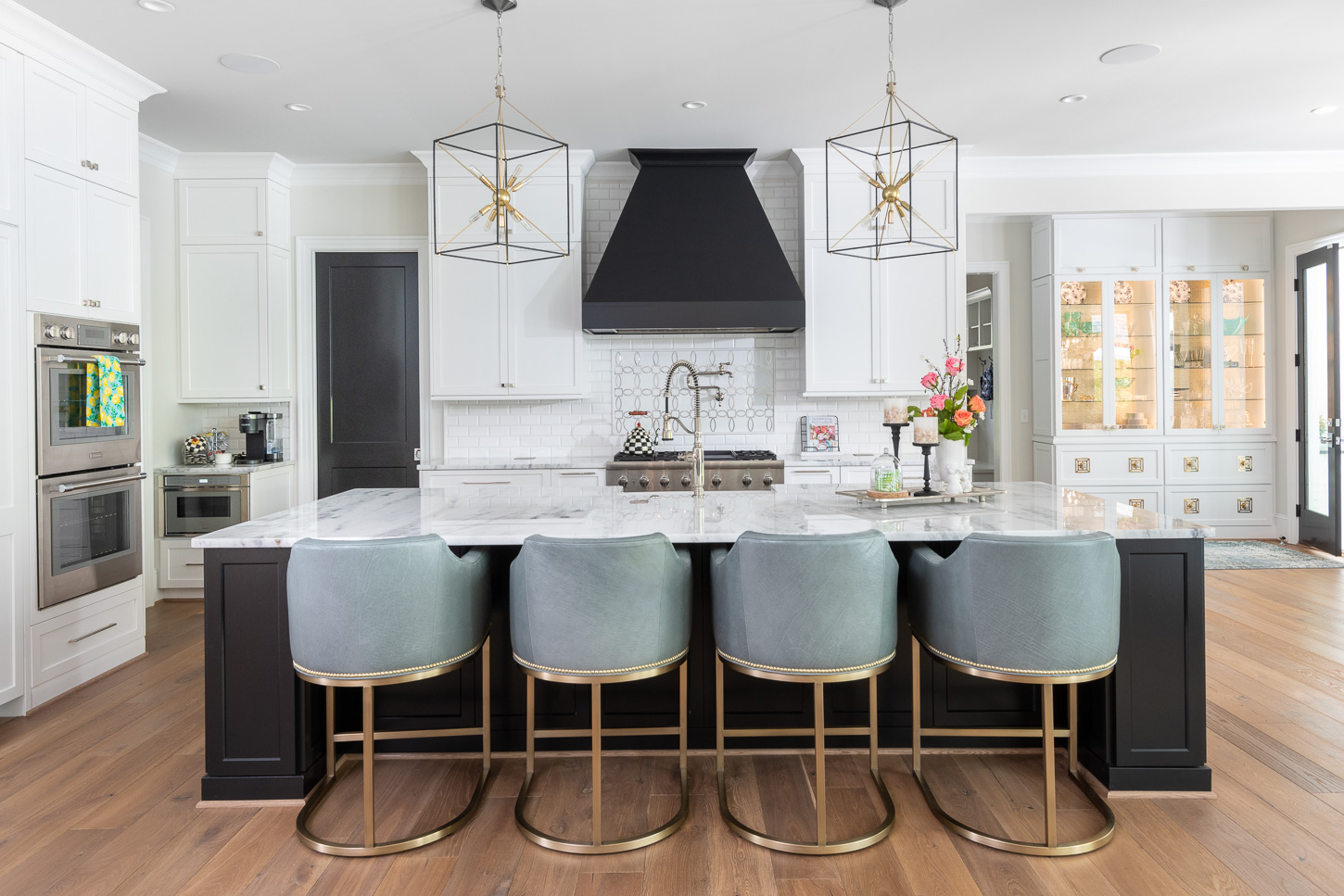 18 Jan

In 2021, Keep Your Eye on Design

Since 2004, Stoneledge Luxury Homes, founded by Chris & Meranda Bailey, has been revered as one of the Upstate's premium custom homebuilder and designer firms. But the Bailey's homebuilding roots span even further to 1989 when Chris first entered the business, following in the footsteps of his father.

Through the support of Stoneledge's dedicated team and loyal client-base, they continue to build upon a legacy of impeccable quality and unmatched client satisfaction. Stoneledge's design team, led by Meranda, is known to present clients with exceptional designs that achieve a classic and timeless style.

As Stoneledge and Coldwell Banker Caine welcome a new year, our team sat down with Meranda, Head of Design, and McKenna Bailey, Design Liaison, to hear their top five suggestions for achieving the best of design in 2021.
Make a Gold Statement – Gold is here to stay. From lighting fixtures to faucets, fabrics, furniture, and rugs, this classic metal will be tastefully celebrated for many years to come. For an added wow, pair gold with black and achieve a striking look.

Create Destination Spaces – Over the last year, our homes have become much more than just home. Homeowners are creating purposeful destination spaces – both indoors and outside – as well as entertainment areas, in-home theaters, home offices and garden spaces. With home now being a place to live, work, study, and play, versatile destination spaces are certainly proving their worth.

Treat the Kitchen as a Hub: Now more than ever, the kitchen is the true hub of any home. Many homeowners find themselves cooking at home more often, enjoying takeout, treating the kitchen as a classroom, and using the island as touch-down space for family and neighbors to connect. Keep your kitchen ready for anything by making efficient use of storage, including ample seating, and discovering organizational ways to transition with ease.

Work In Comfortable Spaces & Little Luxuries – As we're all spending more time at home, comfort is a must-have. Families are seeking pretty spaces that also provide function – and perhaps a little luxury. For some, comfort is simply achieved through a lush couch and a cozy blanket. For those seeking luxury for all family members, fur babies are now gaining their own spaces to call home.

Pop Color Into Your Space – Color trends consistently evolve, and in 2021, we're anticipating pops of color that provide visual interest and a note of 'happy.' While a clean, white space will always be popular, many families are opting for unique kitchen colors or brightly colored light fixtures to bring warmth and a little fun to any room.
Feeling inspired to freshen up your home in 2021? Meranda and McKenna share their top advice for enhancing your spaces and finding the best partner:
"Find someone who wants to learn about how you live – specifically your routines – and will tailor your home design to your lifestyle. Merge beauty with function. Approaching design with this mindset guides you toward your dream home and the home that you'll truly enjoy living in," explains McKenna.
"My advice is the same that I've shared for the last 14 years. Find a design partner that you trust and one whose style and advice you admire," adds Meranda. "Allow them to truly get to know your style and to create a home that exemplifies just that. Have real conversations with them to ensure that your needs are met. And make sure that every space in your home has at least one piece that makes your heart sing."
Seeking more design ideas from Stoneledge? Check out the team's Gallery of homes and designs here – as well as testimonials from Stoneledge clients.
When you choose to build a custom home with Stoneledge Luxury Homes, you'll have access to a full design studio – and the partners that will make it their mission to build the home of your dreams.
Learn more about Stoneledge Luxury Homes, new home opportunities, and custom designs here.