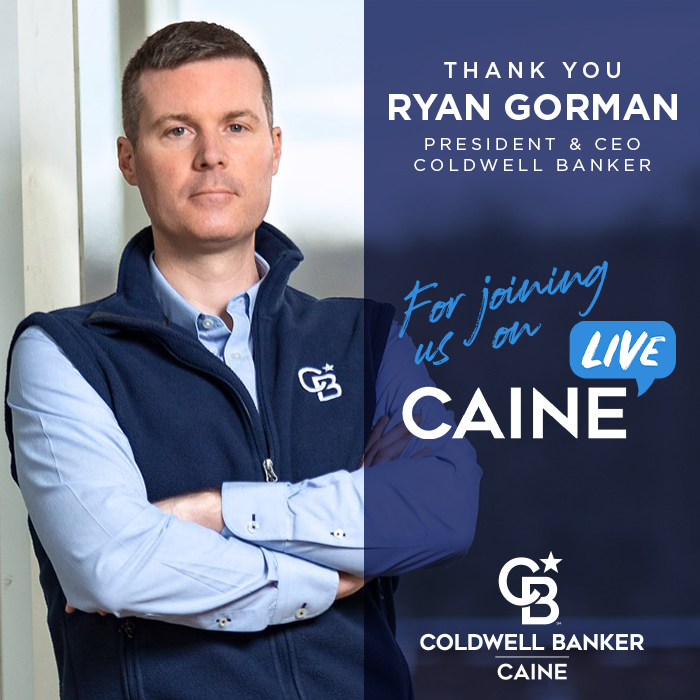 17 Feb

Coldwell Banker President & CEO, Ryan Gorman, Celebrates Caine's Success on Caine Live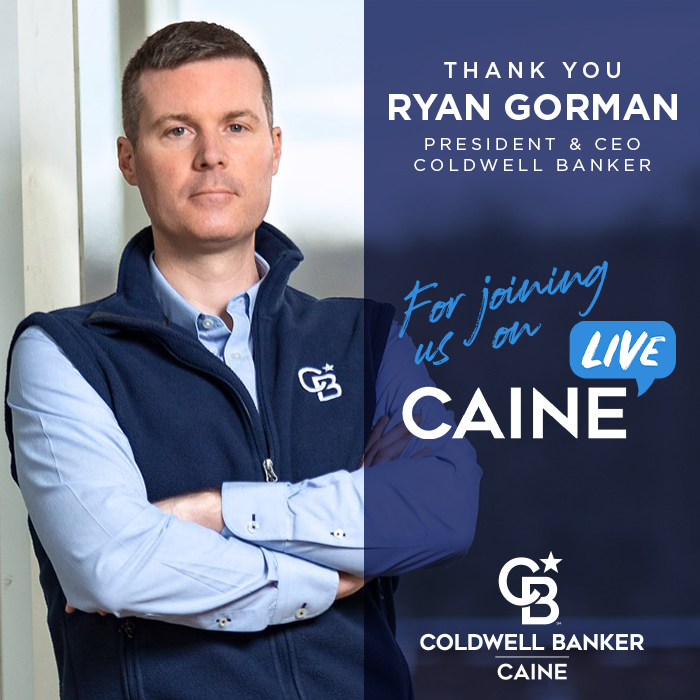 We were pleased to welcome President and CEO of Coldwell Banker, Ryan Gorman, back to our weekly webinar series, Caine Live. This was his third "visit" to Coldwell Banker Caine, following an in-person tour in the fall of 2019 and a previous Caine Live appearance at the beginning of the pandemic.
Since Ryan took the helm as President & CEO at the beginning of 2020, he has been a great leader and steward for the brand, navigating us through the COVID-19 crisis. He is incredibly engaged with the network and values hearing experiences from our agents in the field, and we are appreciative of his support.
Ryan started off the call by commending CB Caine's 2020 success from a national perspective. Caine has grown faster than the overall market, picking up momentum and shares, and each agent individually is serving their community better and better each day. He noted that our per agent productivity is truly exceptional, above industry norms across the country, due to the dedication of our team, the clarity of our mission, and the support provided to Caine agents. We are leading by example, and Ryan's team often shares our successes with Coldwell Banker brokerages across the worldwide network so they can apply our strategies in the markets they serve.
He also spoke to Coldwell Banker's refined mission for 2021. The brand is focused on turning last year's ceiling into this year's floor, supporting both individual agents and brokerage's business plans and goals. They are dedicated to making sure Coldwell Banker is serving every community and market across the country. This includes providing the technology and tools for agents to succeed, but in focusing on quality over quantity. Coldwell Banker is rolling out digital tools to agents that are tightly integrated and have a top-notch user experience with an open ecosystem approach to give agents the freedom to use the tools that work best for them.
On the state of the market, Ryan explained that in looking at the overall numbers, he is seeing incredible and continued strength into 2021 at all of the price points throughout the country. Builder confidence is nearing all-time highs, and builders are leaning harder into slightly lower price points than in the past, which is important since the need for inventory at the entry and middle levels is great, especially in markets like the Upstate that are seeing increased inbound migration.
Though you may read in the news that the "downtown" is being abandoned, it isn't quite what it seems. While Ryan says we are seeing significant migration from the most densely-populated cities like New York, Los Angeles, and San Francisco, some of that migration is driven by the pandemic, but some is also driven by the acceleration of life plans, taxes, and other factors.
Thankfully, Greenville has the best of both worlds – an appealing and thoughtfully developed downtown and room to spread. He predicts we'll continue to see densification as many folks coming into our area appreciate an active, walkable downtown with cultural destinations. It makes sense for our community to continue investing in our downtown, increasing the overall appeal of the Upstate.
Lastly, Ryan shared with our agents the importance of their role as knowledge experts. The common thread amongst all transactions that occurred last year was confidence – confidence that clients could transact physically and financially safely. The more our agents can educate themselves about new trends in the market and keep that confidence at the forefront, the better they can serve their clients.
If you're thinking of buying or selling a home, click here to get in touch with one of our knowledge experts and full-time real estate professionals.