01 Nov

Save or Splurge? 5 Questions to Ask Yourself When Buying Home Decor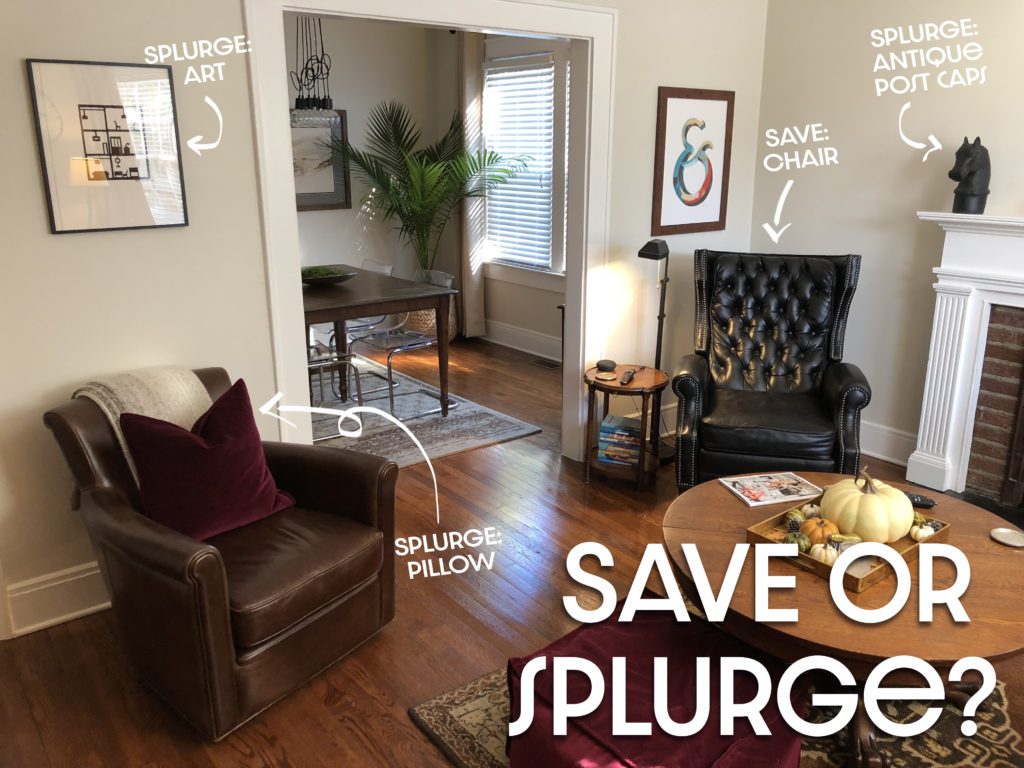 If you're reading this, you probably don't have the winning $1.5 billion Mega Millions lottery ticket. Me neither. Don't worry though, you can still live out your caviar home décor dreams on a shoestring budget. The key to making it all work is striking a balance between saving and splurging.
Because everyone's budget will be different, I thought it would be better to focus on the decision making process. So, here are a few save or splurge questions I ask myself when I'm on the hunt.
1. Can I find it cheaper someplace else?
For me, the answer to this question is "sometimes." There have been times I've been able to do a little hunting and find something that works just a well as the big ticket item. If you can do it, save!
1b. Does the less expensive version look or feel as nice as the more expensive version?
There have also been times when the cheaper version of something just isn't good enough. While I'd generally say I'm decorating my home on a budget, I don't want it to look cheap. If it's not working, splurge!
2. Does it give me the feels?
I'm not going to lie, sometimes I see something and it pushes all my buttons, my head explodes, and I have to have it. If you see something and your head explodes, I say splurge!
3. Will it hold up over time?
The quality of an item is often a key factor when deciding whether to save or splurge. If you're looking for a sofa, I'd say splurge. It will last longer and look better than something cheap. I'll usually ask myself if I'll end up buying it twice because I tried to save some money upfront. If you can, I say splurge on a quality piece!
(Full discloser: I have a 10-year-old IKEA sofa…still saving for the splurge)
4. Is it scarce or one-of-a-kind?
This is how I ended up with horse head post caps on my mantel. I was looking for something for my mantel when I happened to find them in an antique store. They pushed my buttons, and I knew I needed to splurge. They were the only horse heads in the entire store!
5. Can I live without it?
If I'm feeling extra splurge-y, I'll usually take another lap around the store before deciding to actually spend the money. Even though #2 still holds true, taking a breath can help make sure you don't regret it.
Key Places to Save:
Rugs – I've found all my rugs at the Pottery Barn Outlet. While PB Outlet prices might still be a splurge for some, the rugs are sold at a significant discount.
Bedding – HomeGoods and TJ Maxx sell designer sheets on the cheap. Start your search there.
Lighting – I found my industrial-looking dining room fixture on Amazon for about $50. Though the instructions were definitely translated into English from Google Translate, it looks great. Lowes and Home Depot also have trendy fixtures at a reasonable price.
The Room You Use the Least – I have a back bedroom that's my home office. That's the room where I'm saving the most because I use it the least. My cheap IKEA desk is fine because I usually have my laptop with me on the couch.
Key Places to Splurge:
Pillows – It's kind of silly, but I can tell the difference between a nice and a cheap pillow almost instantly. The quality of the fabric can be vastly different and the filler doesn't hold up in lower-priced options. I splurged on down-filled velvet pillows for my living room. They're perfect for napping, and they help dress up my IKEA sofa.
Mattress – Y'all, cheap mattresses are no good. Just say no!
The Things You Love – If you love coffee, then splurge on making your coffee bar the best place to start your day. If you love art, splurge on art. (Guilty!) If you're an amateur chef, get those extra gadgets for your kitchen. Y'all get the point!
One final piece of advice, always start at the less expensive stores and work your way up. Filling in with splurge-worthy items is a great way to pull a room together.
About the Author
James Prow is the Coldwell Banker Caine Graphic Designer. In his free time, he enjoys margaritas, working on his home, and all things Clemson. Willy Taco is his spirit animal.