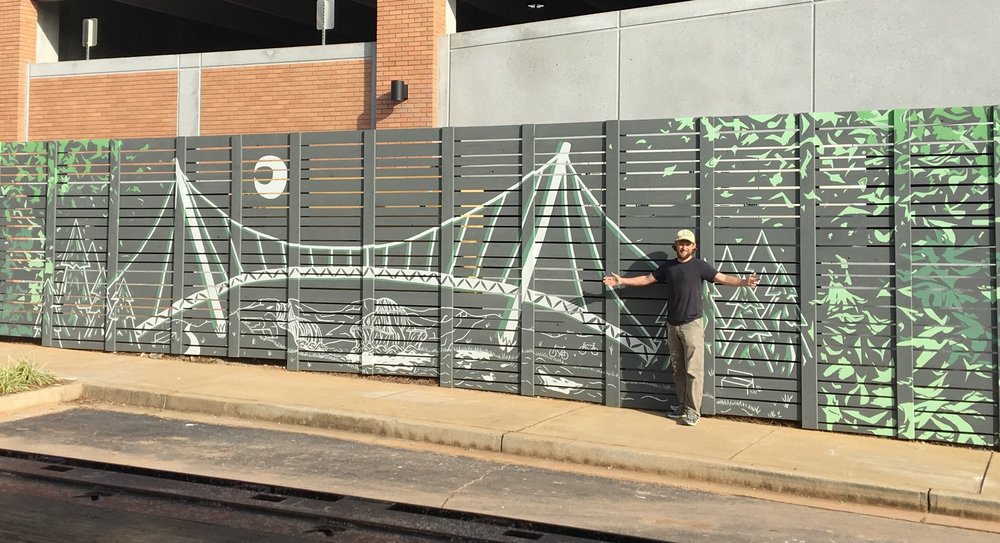 04 Dec

Murals that Celebrate Greenville – Douglas Piper's Take on Falls Park

How familiar are you with Greenville's murals? From the Village of West Greenville to Poe Mill, Stone Avenue, and Cherrydale, Greenville's artistic scene is reflected through once ordinary walls that have been turned into pedestrian scaled pieces of art.

Local artists including Eric Benjamin, Annie Koelle, Kate Furman, and Adam Schimmer have left their creative mark on Greenville with eye-catching paintings on walls throughout greater Greenville connected to parking lots, breweries, office buildings, and more. Most recently, Douglas Piper shared his talents through a mural of Falls Park on the 200 East Broad wall downtown.

Our Coldwell Banker Commercial Caine team leases and manages the 200 East Broad Street building and McMillian Pazdan Smith was the building architect. Douglas was selected to paint the mural in keeping with the building owner's desire to support the arts. As a young, local artist, Douglas' take on the bridge and falls in the heart of the city was the perfect way to showcase the city's continued commitment to local creatives.

Predominately known for his printmaking work, Douglas' contemporary, folk-style prints reflect the ruggedness of the outdoors with bold lines and beautiful subject matter. Formerly Coldwell Banker Caine's featured artists in our Main Street Gallery, Douglas and his wife, Meredith, have continued to gain recognition in the Upstate for their incredible artistry both in collaboration and individually.

Make sure you stop by to see and take a picture with Douglas' mural at 200 East Broad Street. If you're feeling adventurous, you can even check Greenville's other murals off of your sight-seeing list – check out this comprehensive list!