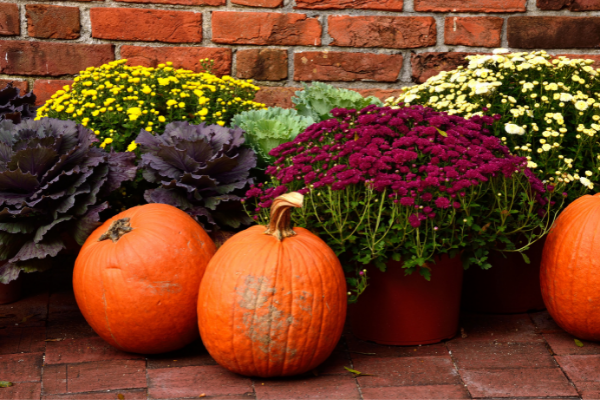 13 Oct

Fall Porch Prep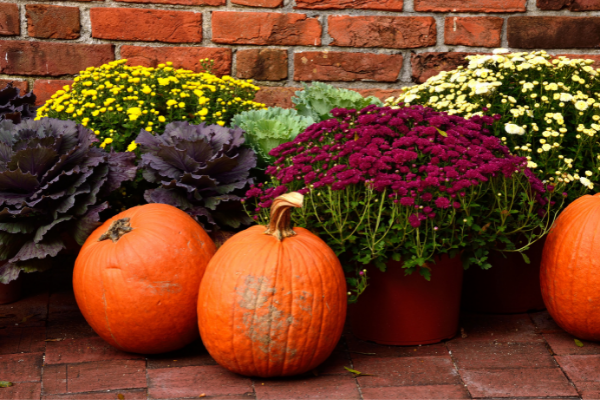 As the leaves start to change and the brisk air moves in, it's time to get your porch into the seasonal spirit. Here are some ideas that will help transition your home's entryway from the bright florals and cool hues of summer to the warm, cozy fall vibes we all know and love.
1. Update your planters
Incorporating fall-colored flowers and foliage helps bring a natural pop of color to your home. Flowers like chrysanthemums, pansies, and black-eyed susans add warm hues and are hardy enough to withstand the chilly weather. Lacing in ornamental cabbages and other types of foliage add a bit of texture and filler.
2. Switch out your throw pillows
If planting flowers isn't your thing, incorporating seasonal throw pillows is a quick way to spruce up your front porch. Whether leaning into the upcoming holidays or simply sticking to an autumnal color palette, throw pillows are a perfect, low maintenance way to add a pop of color. Not wanting to splurge on new pillows? Try putting your current pillows in a burlap sack and fastening them with a festive ribbon. This is an impactful way to achieve a seasonal look while not having to buy all new pillows.
3. Add a decorative wreath
We aren't talking your traditional Christmas wreath! Using materials such as foliage, pinecones, wheat stalks, and berries, you can create the perfect fall wreath that will have everyone who enters your home in the seasonal spirit. In the mood to DIY? Here are some great ideas that will get your creative juices flowing.
4. Decorate using candles
There is no denying that candles are a beautiful way to warm up a space and create a cozy feel. When using candles on your front porch, it creates an inviting atmosphere which makes your guests feel welcome as soon as they approach your home. Looking for a more refined look? Try finding decorative lanterns or stands to help dress your candles up a bit. If having real candles makes you uncomfortable, there are many flameless options that can still provide that cozy feeling we all love.
5. Don't be shy with the pumpkins
Un-carved pumpkins are the perfect porch decoration for fall. Why, you ask? Before pumpkins are carved, they can last for weeks and are a great way to add nature to your entryway. Once Halloween gets a little closer, make use of these same pumpkins for your Jack-O-Lanterns. Looking to spice things up? Try mixing in "fairy tale" pumpkins. These quirky pumpkins come in many unique shapes, sizes, and colors and are the perfect way to set your home apart.