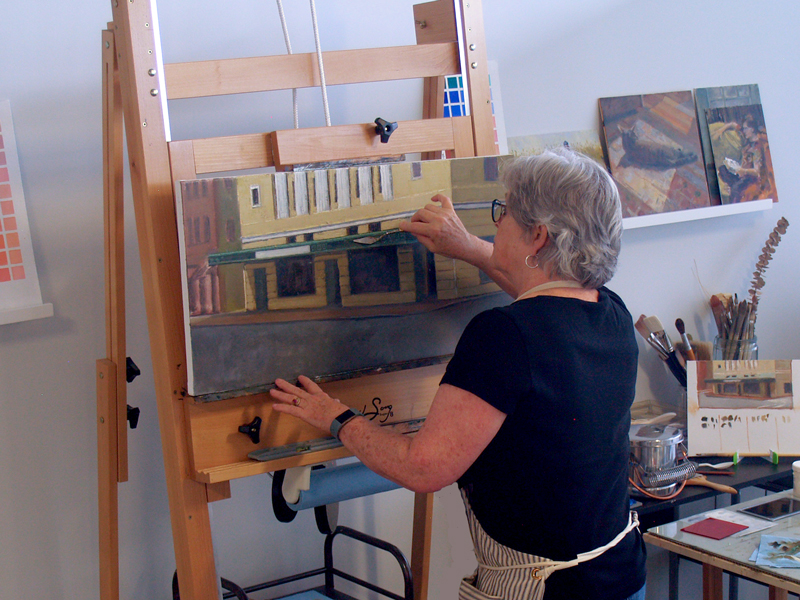 07 Jan

Meet the Artist: Isabel Forbes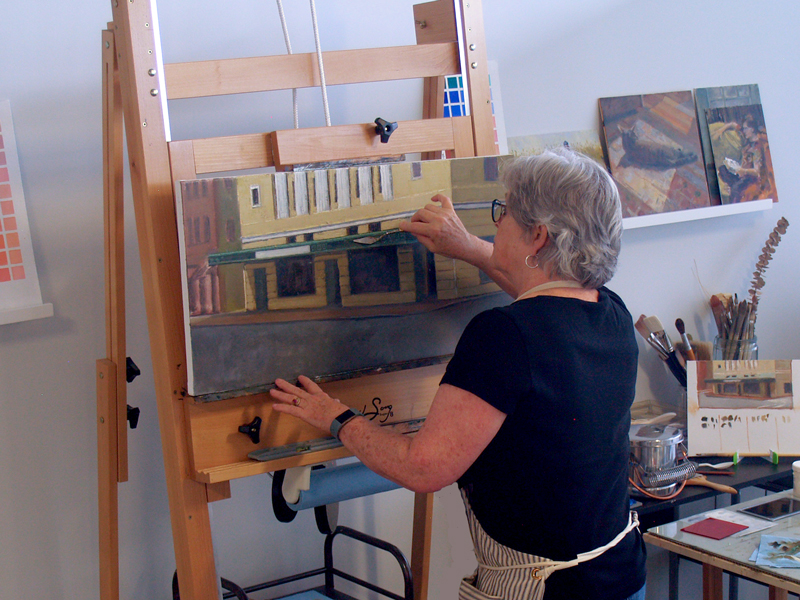 As part of our Caine Cares initiative, we display artwork from a different local artist each quarter in our Spartanburg office at 151 S. Daniel Morgan Avenue. To kick off 2020, our newest featured artist is Isabel Forbes. Isabel is a Spartanburg native and draws from a successful career in graphic design and illustration. She currently paints full-time in her "working studio and gallery" in Spartanburg.
We invite you to join us on January 16 from 6-8 PM for Isabel's Opening Reception. Enjoy hors d'oeuvres and a viewing of her work displayed in our space through March. Before attending, get to know Isabel by reading her responses to a few questions we asked her below!
What piqued your interest in art?
I grew up on S. Fairview Ext. in Spartanburg, three houses down from the artists, Irma & August Cook. As a child, I would look through the window of Irma's basement studio to see her giving art instructions, wishing I could be in there painting. As a junior in high school, Hallmark cards bought a drawing I created as part of a purchase award. That opened my eyes to the possibility of making a living with my art.
How would you describe your style of art?
The style of my oil paintings might be called representational or realistic, but underneath the "realism" of a painting is an abstract light and shadow composition.
Where do you gather most of the inspiration for your work?
The abstract composition inspires me in the beginning, and the subjects themselves also have a special meaning. I was unaware of the deep connection I had with Spartanburg, the city I grew up in, until I saw it with a different "lens." With three decades between my teenage exit from Spartanburg to attend art school in Florida and my return home, I have discovered a renewed love for the "local" and the memories these familiar places evoke.
What's your favorite piece of your own work?
The painting I created of my stepfather, Nat Walker's Morgan Square drug store, Heinitsh Walker, was the first Spartanburg scene I painted when I returned home. This painting opened my eyes and my heart to the possibility of creating a series of Spartanburg landmarks.
What's an interesting fact about you or your work?
I received a Scholastic scholarship to study at Ringling School of Art located in Sarasota, Florida. When I attended my 20-year Spartanburg High School reunion, I discovered many of my classmates thought I had studied at a clown college and joined the circus.
What famous artist do you most admire?
I am a lifelong student of art and art history. There are many artists I admire for many different reasons… Diebenkorn for his method of abstracting shapes, Degas for his creative vantage point of view, Georgia O'Keefe for her tenacity, but it is Andrew Wyeth I admire the most. As a teenager, I visited the Greenville Museum of Art to attend a Scholastic art awards ceremony and that was when I saw my first Andrew Wyeth painting in person. There was an artist who lived in two places his whole life, Pennsylvania and Maine. His entire painting career was inspired by the people, places, and things he knew and loved. He simply created thousands of drawings and paintings of his life. Andrew Wyeth was the first artist to teach me to look at what at first appears ordinary and to see the extraordinary.